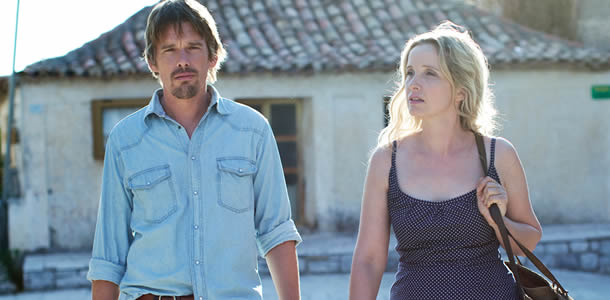 Almost every movie we see about love and romance shows a beautiful couple falling in love, overcoming obstacles and eventually reassures us with a happily-ever-after ending. But not many show you what happens after that – once real life gets in the way.
Before Midnight is a refreshingly truthful film that shows what real love is like when you've been with your love for many years. It also reunites actors Julie Delpy and Ethan Hawke with writer/director Richard Linklater in the third and final installment of the "Before" movies.
In 1995 Before Sunrise introduced us to Céline (Delpy), from France and Jesse (Hawke), an American,  who meet on a train in Europe as twenty-somethings and spend one magical night together in Vienna. They agree to meet again in six months. Their story is picked up again in 2004 with Before Sunset when the pair meet again in Paris. Now is his thirties,  Jesse is a married writer with a son and Céline is still single. They stroll through Paris, fall in love and at the end, we hope they will change their lives to be together.
If you've not seen the other two films, don't worry. It won't matter. Just don't miss this one.
While the first two films focus on their romance, Before Midnight is a deep look at how it has evolved.  Skipping ahead nine years to 2013,  we find Jesse and Céline on vacation in Greece. He is now divorced and they are living together with their twin girls.  Yet both feel like they've had to make sacrifices. He's 41, deeply missing his teen son who lives in Chicago, thinking of a new book he'll write and feeling like Céline just wants to change him. She's still trying to cling to her feminist ideals, feels she's bearing the burden of caring for their kids after work and wants to reignite her career.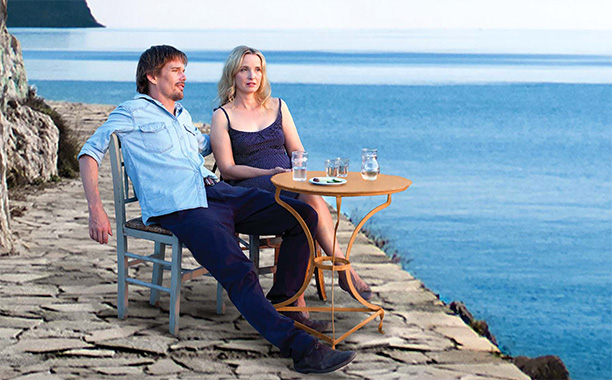 As with the other films, Before Midnight follows the couple while they talk and walk and even argue while being filmed in long tracking shots.
Maybe it's because Hawke and Delpy co-wrote the script with Linklater or perhaps it's because they are so familiar with their characters by now, but this on-screen couple is just so believable. That's why at times the dialogue is so real it hurts. You feel the pain of both of these people as they say things most who have argued with their lover can relate to.
Yet as intimate as it is, this is a very funny film too. Superbly-written, the zingers the couple say to each other whether in jest or in anger are truly priceless.   "You are the fucking mayor of Crazy Town"  and "No one wants to be Joan of Arc. She was burned at the stake and died a virgin" are just a couple of examples and the film is full of them.
Before Midnight is an honest picture of what it's like being in a long-term adult relationship – with all its challenges. As Jesse and Céline  try to find their way back to being that person the other fell in love with a long time ago, you become very aware that you've experienced something truly special on-screen.
I know we've got another six months to go in 2013 and I've got lots more movies to see. But last night I had a feeling I had just seen my favourite film of the year. Don't miss it.
"Before Midnight" opens Canada-wide today.
[youtube id="Kv6JWoVKlGY"]