I truly understand when people talk about dry heat versus what we get here in Toronto. We've just had our first heat advisory of the year (yeah, finally). Remember? We go from cold to hot in a nano second.
A couple weeks ago I was in Palm Springs, California. It was
 hot.
.. like 100 degrees hot. But you could still function and not feel like you need shower every minute of the day. The desert heat doesn't zap you the same way the heat does here.
Here at home my skin goes bananas in the humidity. I get all shiny-faced and I need to adjust my skincare products depending on the weather. My skin is sensitive and I tan very quickly…too quickly. 
So yes, I use sunscreen
.
I've been testing out several beauty products these past few months and 
Philosophy
 is a skincare line that has caught my eye. I was particularly keen on trying out the
 total 

matte

ness. Oil-free, mattifying pore refiner. 

I'll try anything to keep the shiny under control!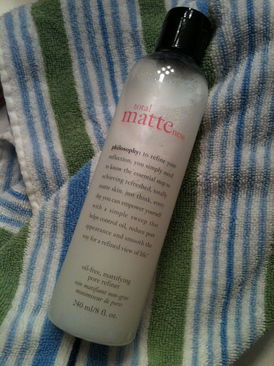 I've been using 
Philosophy's total matteness
 for a couple of weeks now and  with the humidity I definitely don't feel like I need any moisturizers. I've used this morning and night as well as a refresher mid-day if I need it.
And I love their uplifting messages on the labels!
This product's label says this…
"To refine your reflection, you simply need to know the essential step to achieving refreshed, totally matte skin, just think, every day you can empower yourself with a simple sweep that helps control oil, reduce pore appearance and smooth the way for refined view of life." 
If you would like more information about Philosophy products, visit their official website at
Philosophy is also available at Sephora in Canada & U.S.
Do you change your skin care products according to the seasons?
This post was not sponsored, nor was I compensated. UrbanMoms is often sent products for review purposes only. Thanks to Philosophy for offering review products that are tailored to my skin type!