When my mom was first diagnosed with cancer, I moved home to help her out. I had no experience with caregiving, but I figured that my knowledge would grow as the days passed. Boy was that the truth. In the same way that having a baby throws you into parenting—ready or not—caring for a critically ill person hurls you into chauffeuring, nursing, counselling, cleaning and a slew of other unmentionable roles you never thought you'd perform.
Something happens to the universe when you have an ill parent. The cosmos rearrange themselves and suddenly you're the adult to your child-like parent. Not that my mother was childish—she was far too stoic for that. But she did need a lot of help, specifically when it came to the soul-sucking side effects of chemotherapy.
Because mom's bedroom was tucked away in the far end of the house, we gave her a bell to ring to let us know that we were needed. She used it sparingly, and I soon came to recognize that the sound of it usually meant I was needed for cleanup. I'd brace myself for the answer to "Did you make it to the bathroom?" and would sigh after hearing the inevitable "No."
Despite the unpleasantness, I'm glad that I had that time with mom. I still ring the bell sometimes, in her memory, and think about when she rang it and claimed, "I can't reach my cookie." Like I said, she used that bell sparingly, and only in emergency situations.
Dan Marshall knows all about having a terminally ill parent: his mom had been fighting cancer for more than 10 years. But despite riding the ins and outs of his mom's battle, nothing could have prepared him for the hysterical phone call he received from her in late 2006. In his new memoir, Home is Burning, Marshall, a self-proclaimed "spoiled white asshole," tells of his reluctant move home to care for not one, but two terminally ill parents.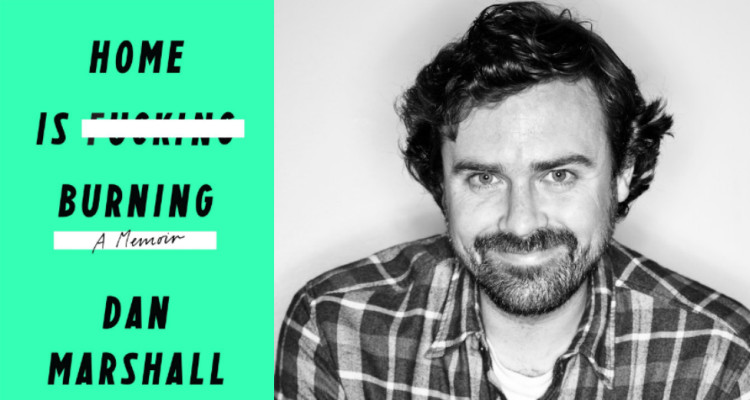 Marshall's father, a fit, healthy marathon runner, had always been the rock of their chaotic family, especially when their mother was recovering from her bouts of chemotherapy. But a seemingly innocent visit to the doctor with questions about some strange muscle twitches resulted in a referral to a neurologist: Marshall's father had ALS—Lou Gehrig's Disease.
In the months following the diagnosis, Marshall's role as caregiver became more and more demanding. And as his father's disease progressed, far more rapidly than they hoped, the reality that his dad was dying became frighteningly clear. He and his brother, or "Team Terminal" as they referred to themselves, took leave of their own lives to nurse their parents—unmentionable jobs and all.
Home is Burning recounts, in brutally honest and outrageously funny prose, the year that Marshall and his boisterous, neurotic family spent weeping, cursing and yes, laughing through one of the hardest tasks they'd ever face: preparing for their father's death. It's as hysterical as it is heartbreaking.
Home is Burning is Dan Marshall's first book. Flatiron, 2015.