It was a hard slog through brochures, travel agents and more websites than you'd care to admit, but you've done it—you've finally settled on a destination for your next family trip. You wanted a place you could relax on the beach and seek out a bit of adventure. So naturally, you're heading to Jamaica!
I recently spent a few glorious days on the North West side of the island in Ocho Rios and I'm still dreaming of white sand beaches, friendly faces, adrenaline rushes and some of the most amazing food I've ever had.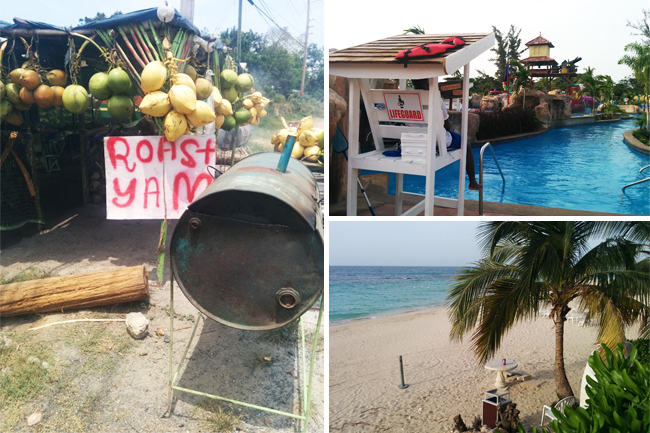 There is so much to see and do (and taste) as a family, even in this small part of the island. With so much to fit in, how do you go about planning an amazing, action packed family getaway?
First things first, you need to find a family friendly resort that caters to your family's needs.
I stayed at the Jewel Runaway Bay Beach & Golf Resort and it had everything you could possibly want in a family resort. If you're looking for a bit of family time together, the Jewel Lagoon Water Park is where you want to be. With over 10 different slides and rides, the park is perfect for toddler and teenagers alike. My personal favourite was the lazy river!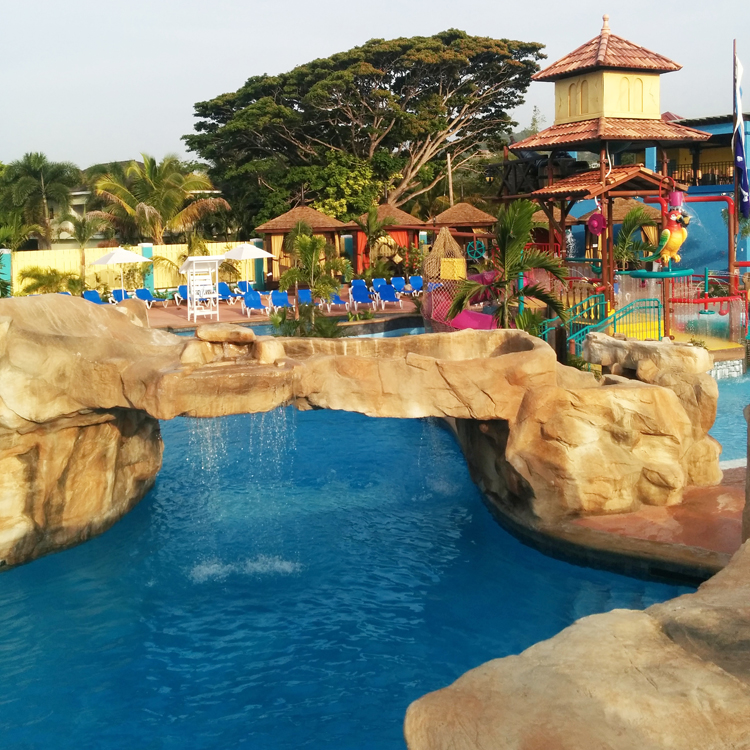 And if that doesn't appeal to the kids, grab a mocktail for the kids (and maybe a cocktail for yourself!) and head to the beach where you can enjoy the sun, sand and surf. Grab a kayak and get the kids out on the water or relax on beach chair, poolside.
If you're planning for a little alone time, the children's center is a great place for kids of all ages—from 9am to 5pm daily infants up to 18 months are welcome and kids over 18 months can stay until 9pm. The kids are broken up into age groups and special activities are planned for each age group. And the hotel can also arrange for extra babysitting services if you need childcare tailored to your plans.
The food at a resort can really make or break your holiday, so I am happy to report that the food was amazing! I highly recommend the Jade Samurai—the Jewel Runaway Bay's Japanese restaurant—where the chefs are hilarious as they cook in Teppanyaki style aka right in front of you. It's a great show that the kids will definitely love!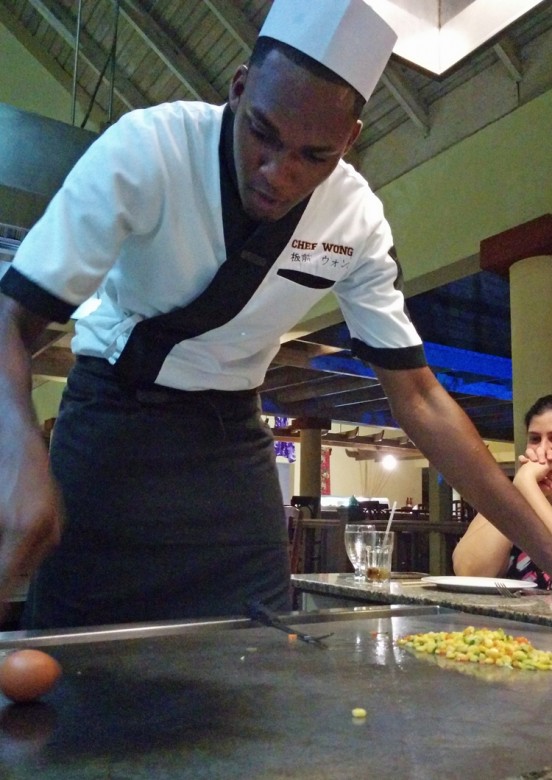 While I loved taking time to relax around the resort with a book in hand, there is only so long I can do that for—I tend to get a bit bored.
So now, for the adventure part of the trip.
First stop was Dolphin Cove where we got to swim with the dolphins! There are a few different options for dolphin meet and greets. The Encounter is great for very small kids (0-5 years can participate but must be accompanied by an adult) as they get a kiss from the dolphins in knee deep water. The Ultimate Swim (2 dolphins) and the Dolphin Swim (1 dolphin) programs are perfect for those who are more comfortable in the open water and want to spend a bit more time with their new dolphin friend (minimum age is 3 and kids aged 3-7 must be accompanied by an adult).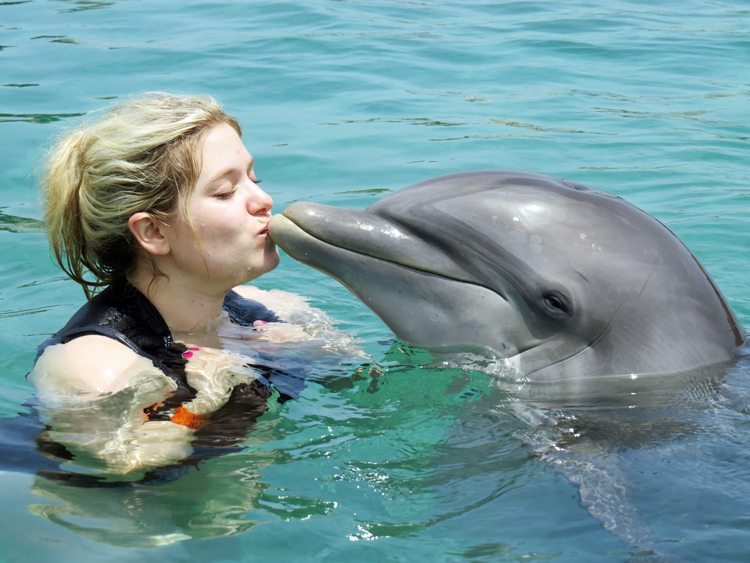 I got a chance to swim with Skye a very friendly dolphin with whom I shared a dance and a very sweet kiss.
Once you're at Dolphin Cove, there is so much more you can do. You could easily spend a whole day exploring. There is a private beach, shark shows, mini boat rides and a very cool Nature Trail with different animals, including some very friendly parrots, to see along the way.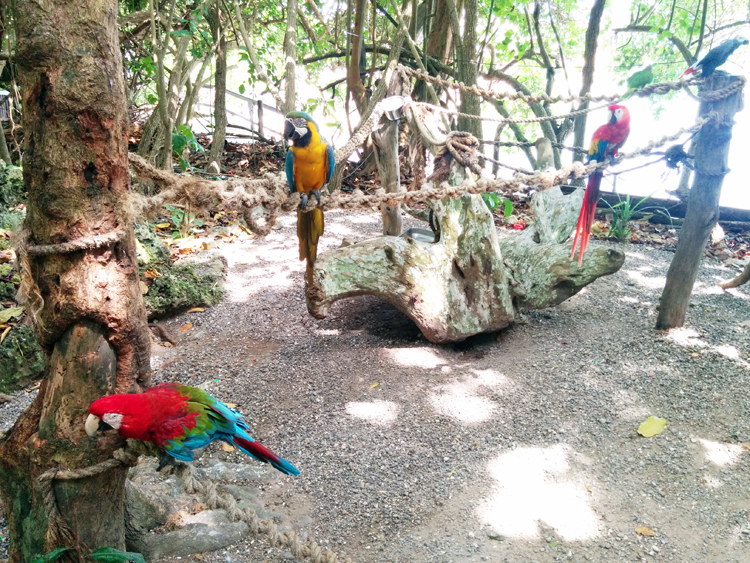 Another must-see while in Ocho Rios is the amazing Mystic Mountain. For some of the most breath taking views around, start off by taking the Sky Explorer, a chairlift that takes you 700 feet above the gorgeous Jamaican rainforest, to the top of the mountain. Be sure to apply your sunscreen beforehand—the 20 minute trip doesn't offer very much shade.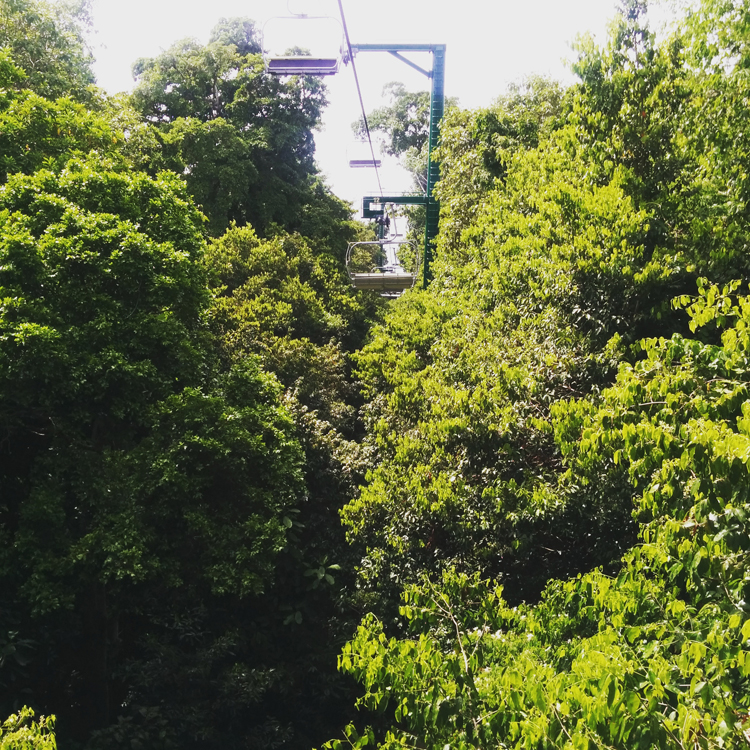 Once you've reached the top of Mystic Mountain, there are a ton of different thrill-seeking activities to keep you occupied. A lookout tower and infinity edge pool give you even more amazing views, but none of the views are quite as amazing as those offered by the Canopy Zip Line Tour and the Bobsled.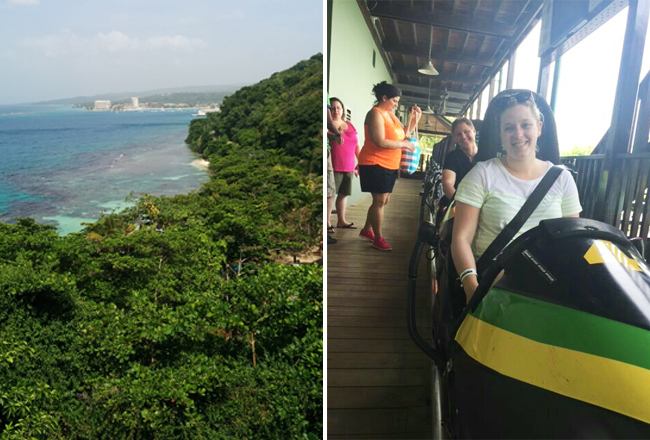 Yup, that's right, I said bobsled. You can ride a bobsled designed after Olympic bobsled teams very own.
Strapped into a custom designed bobsled, you'll be in control as you speed (or carefully meander) through 1000-meters of track along the side of the mountain. Kids over 5 years old can ride and two bobsleds can be hooked up together in case your little one is a too wary to go it alone.
While you're off the resort on one of your adventures, may I suggest Miss T's Kitchen for an amazing, traditional Jamaican meal? This was one of my favourite meals in Ocho Rios and if I had had the time, I would have gone back for round two! The jerk chicken was amazing and I surprised myself with how much I love Miss T's Curry Goat, a speciality I was hesitant to even try at first.
With a great selection of sandwiches and wraps, Miss T's is a great option for parents with picky eaters who want the chance to try something a bit more adventurous while still pleasing the little ones.
I'm already planning my next trip back to Jamaica. The people were so hospitable and friendly everywhere I went. The weather was amazing, the food was to die for and it was the perfect mix of relaxation and adventure.
Have you been to Jamaica? What did you do while you were there?