This weekend, the Canadian International AutoShow (CIAS) is in Toronto. And while it might not seem like your first pick for a family outing, it's actually a great place to spend some time with the kids.
The spectacular show runs from February 13 to the 22nd. 45 vehicles make their Canadian premiere at this year's show, and more than 1,000 cars, trucks and SUVs are on display. You'll see the newest models from pretty much EVERY car manufacturer in the market.
The show offers more than a look under the hoods. There's plenty of entertaining things to see and do for families. CIAS Family Day is February 16, but families are welcome throughout the show.
Remember, the show is massive and spans both buildings at the Metro Toronto Convention Centre. As always, an express shuttle is available to help families with strollers travel with ease and comfort between the Centre's North Building and the South Building.
Many automobile brands are offering activities and even amenities. The "Volkswagen Playcare Centre" is a safe and fun place to park your little ones should you get tired of dragging them around with you.
They have lots of supervised activities including arts and crafts and games. It's located on the 600 level.
We had an opportunity to grab a sneak peek of the show before it opened to see all the fun things for guests to check out in between seeing all the great vehicles.
Ford Canada has great interactive elements in their massive section. On their South Building show floor, test how quickly you can react while driving and check out the Innovation Workshop. Here you'll also see the brand new Ford GT that will be built in Markham, Ontario. You'll also spot the RIP ROD real-life size Hot Wheels in this section. The RIP ROD was featured in the 2013 Hot Wheels World's Best Driver movie where it was driven by some of the most talented pro drivers in the world including Mario Andretti, Danica Patrick, Dario Franchitti and Ronnie Renner.
You'll also have a chance to see Ford's wearable technology with the specially-designed Third Age Suit that gives the feeling of different challenges people face behind the wheel so you can learn about the true importance of car design. Men can even find out what it feels like to be a pregnant driver.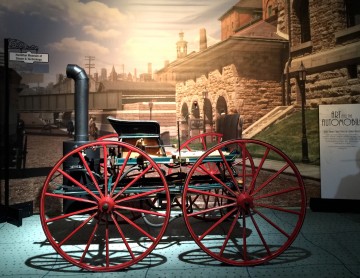 The Art And The Automobile exhibit showcases the rich history of automobiles from the early years as well as some of the most iconic vintage cars ever made. Canada's oldest car is on display here — this reconstructed 1867 steam buggy by watchmaker Seth Taylor is believed to be the oldest car in the country, and possibly the world. This is a rare opportunity to see it in real life!
The Auto Exotica area is dreamy and even drool-worthy.  Get your cameras and mobile devices ready to take photos! The area includes: Aston Martin Vantage GT, Bentley GTC, Lamborghini Huracan, Lotus Evora Sports Racer, Maserati Alfieri Concept, Ghibli S Q4, Quattroporte SQ4, McLaren 650S Coupe, 2015 650S Spider & a 2012 12C, Pagani Huaryra, Rolls-Royce Wraith, Tesla Model S.
The Ferrari LaFerrari of Robert Herjavec (famous North American entrepreneur and leading investor on the Emmy Award winning Shark's Tank) is on display in the main show floor in the North Building — this was getting TONS of media attention.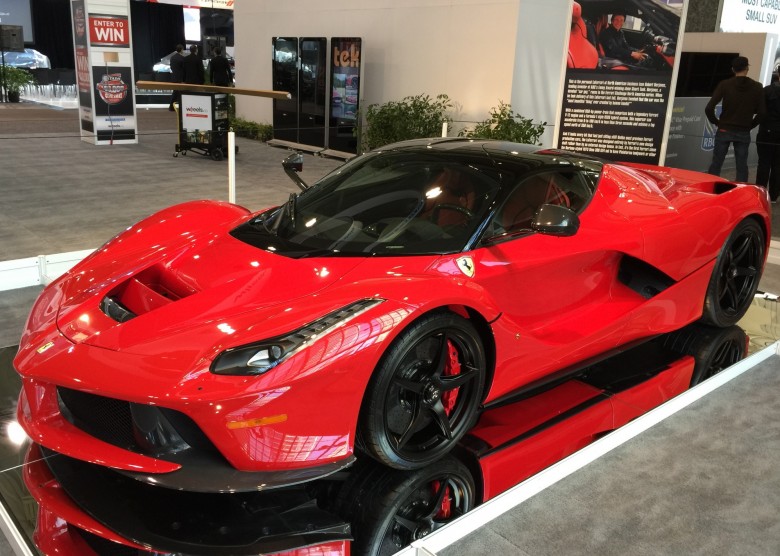 There are many great concept cars on display but the one that caught our attention was the Toyota's "personal mobility" I-ROAD for one. Located in the South Building.
Microsoft Xbox Gaming Area (level 600) will be super popular with both kids and adults! Gamers can play on  Xbox One and the explore the open world of action-packed driving with the wildly popular Forza Horizon 2. Try the latest add-on content and car packs to enhance this ultimate driving game.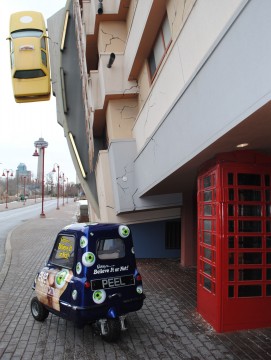 Ripley's Believe It or Not! Test Track (look for the big Transformer guy outside the doorway to this designate room on the 800 level) will give kids the opportunity to drive the circuit but the main attraction here is the Peel P50 Microcar – the world's smallest car! They also have displays and props from Ripley's Aquarium and Ripley's Believe It Or Not! Museums.
Kids (up to eight years old) can learn to drive a mini pick-up truck on the Ford F-150 Trail on the specially kid-friendly indoor course.
Ontario Science Centre is a new entry to CIAS and they're bringing more cool, kid friendly activities. From scribbling robots to plasma balls and a wind bag, the kids will love to use their brains…and take a squishy one home too (while supplies last).
FAMILY DAY HIGHLIGHTS:
This year's Family Day promises to be one of the most special days at the 2015 CIAS, chock-a-block with engaging activities, big-tickets contests and terrific prizes including Via Rail gift certificates, CIAS swag bags and much, much more!
"The Canadian International AutoShow is a truly inclusive event but there's no doubt that the most inclusive, and engaging day at any CIAS is Family Day," said Jason Campbell, General Manager, Canadian International AutoShow. "Families need cars, but kids love cars. (OK: mom and dad love them, too.) This year's Family Day experience is our most special yet, offering an incredible number of activities, giveaways and Family Day–exclusive contests. You don't have to be a family to attend, of course, but this is the day that families really should attend."
At the door…ask for a "Volkswagen Family Ticket" — $45 covers entry for two adults and two children for the 2015 CIAS.
Golf Town and Infiniti are teaming up to let contestants of all ages "Putt to Win" (800 Level) – make a difficult 30-foot putt and get a prize.
AUTOGRAPH/PHOTO SESSION: Mitsubishi will host Toronto Rock goaltender Steve Fryer and other players from the National Lacrosse League powerhouse outfit from 12 PM to 1 PM, along with members of the team's cheer squad from 11.30 AM to 1:30 PM.
COOL CAR CONTEST: You can win one of two all-new 2015 Hyundai Sonata sedans with advanced driver-assistance technology — one lucky winner will drive away in a Hyundai Sonata on Family Day.
COOL CAR CONTEST: For your chance to win a 2015 Subaru WRX STI performance sedan, just download the free "Subaru Scavenger Hunt" app and start searching for clues.
Okay…so for show dates, times and admission information visit: www.autoshow.ca. Kids under 7  are free.
What are you (or your kids) most excited to see at the show?