The story centers on four brilliant magicians who each have a special talent. Daniel (Jesse Eiseberg) is an illusionist and his former assistant Henley (Isla Fisher) is an escape artist. Merritt (Woody Harrelson) is a hypnotist and mind reader and the magician who's been at it the longest, while Jack (Dave Franco, James Franco's brother)  is a spoon-bending trickster and a pickpocket.
After each receives a mysterious Tarot card, the foursome is brought together in a dingy Manhattan apartment. Next time we see them, it's a year later and they are "The Four Horsemen", performing glitzy sold out shows in Las Vegas – thanks to their wealthy benefactor played by Michael Caine. As part of that show, the illusionists rob a bank in Paris and then give the money away to the people in the audience. Needless to say, this catches the attention of both the FBI (Mark Ruffalo) and Interpol agents (Melanie Laurent) who are trying to unravel the mystery of how they managed to do this – without ever leaving the stage.
These agents aren't the only ones trying to figure out how the illusionists did it. Morgan Freeman plays a man who exposes magicians as fraud and then sells his discoveries to the home video market. He joins the action too.
But who is really pulling the strings?
As Daniel says in the opening sequence, "
The closer you look, the less you see.
" True to those words, th
is movie keeps the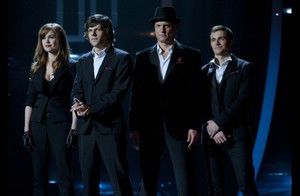 audience at least one step behind the magicians, trying hard to get us all to fall for  the illusion. Ruffalo's hapless FBI agent becomes our eyes and ears as he follows the foursome through a winding maze of illusions and false leads. 
At one point in Now You See Me, Merritt says that for magic to work, you need three things: belief, faith and trust. When one is broken or used for ill means, magic no longer works.
And so it is with this movie. You have to disregard the CGI effects and believe in the magic, even after the tricks become revealed to you one by one. While it starts strong, for me it didn't quite live up to its fullest potential. Overall though, the film is an entertaining trick and at the end you'll wonder how you didn't guess the main illusion all along.
Perhaps you were looking too closely.
Now You See Me opens nation-wide today.
[youtube id="8MHDYZJWLXA"]