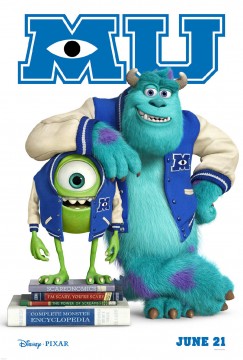 Monsters University is a prequel to the wildly successful 2001 Disney computer animated film called Monsters Inc. Part Harry Potter and part Revenge of the Nerds (anyone remember that one), this is a fun film that both kids and parents will enjoy.
The original movie told the story of two monsters – James P. Sullivan (known as Sulley) and his one-eyed assistant and best friend named Mike Wazowski. Their job is to scare kids in order to generate the city's power.
Monsters University tells the story of how the two met. This is where the Harry Potter part comes in. Both Sulley and Mike are enrolled in a Hogwarts-like school called Monsters University and are majoring in "scaring". The problem is, one-eyed Mike isn't considered to be very scary and Sulley is dealing with being the son of a very famous scarer. He's got a lot to live up to.  Neither of them  like each other when they meet.
Like most college students, they are also trying to fit in with the "cool kids monsters" by aligning themselves with a fraternity.  But when Mike and Sulley both get kicked out of the scare program, this is where Revenge of the Nerds storyline kicks in. The two monsters have to work together to join a fraternity and compete with other fraternities to see who can win in the Scare Games. These games involve a series of physical challenges that tests a monster's scaring ability. The games form the main third act of the movie.
Most of the key actors who voiced the original film are back. Billy Crystal – as the voice of Mike Wasowski, John Goodman as the voice of Sulley and Steve Buscemi as Randal Boggs.
Overall, the film is entertaining but not quite as good as the first one.  Yet it is very charming and has some very funny moments. Such as the mother with curlers who interrupts her son's scare attempt or the snail "rushing" to class (my son's favourite and seen at the end of the trailer below).  We did laugh out loud many times, and for me that's a good measure of entertainment when I go to see a fun film with my son. He loved it.
If you or our your child hasn't see the original movie, it's fine, as this  one stands on its own. The kids definitely won't be bored during this movie and you probably won't either. Just don't expect it to be as good as the first.
TIP: Monsters University is accompanied with a short film, The Blue Umbrella, directed by Saschka Unseld. It plays at the beginning and is a beautiful and clever animated short that you and your kids will love. So be sure to arrive in time to see that one!