Did your kids sing this song at their school concert or graduation this year end? You certainly wouldn't be alone – it's becoming a new standard. This picture book tells the story of K'naan coming to Canada, and where the song started.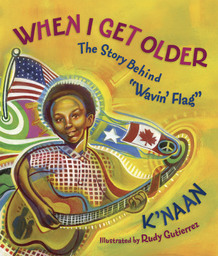 When I Get Older, by K'naan
Tundra Books, ISBN: 978 1 77049 302 5
K'naan grew up in Somalia, in the city of Mogadishu, which he describes as "a sparkling jewel" in the years before a war began. When life changed, his grandfather gave him words to help him keep up his hope, the words that later became the chorus of his famous song:
When I get older/I will be stronger/They'll call me freedom/Just like a waving flag.
After some time, he and his mother were able to move to America, and from there came to Canada as refugees. K'naan talks a bit about fitting in and learning about his new home, where he found other children who were new and struggling. By the end of the story, he has found his voice through singing, and has friends join him in singing his grandfather's words.
The lyrics and music are at the back of the book for musical types, as well as a short history of Somalia and bio of K'naan for those who wish to learn a little more. The illustrations throughout bring this story to life in a blend of realistic faces and stylized, iconic images that swirl around them. This is a nice look at the song for people who are familiar with it, as well as an inspiring story of hope and of finding one's place in the world.
This is also available as an ebook.