There have been plenty of movies based on this – the one amazing night that changes things. Or morning, for that matter – Breakfast Club being a perfect example of this. These two books are about just that – how one night's adventures bring some clarity to each of the teens involved.
Tag Along, by Tom Ryan
Orca, ISBN: 978 1 45980 297 1
Andrea is busted hiding drinks for her friend and is grounded, so she can't go to the prom. Paul is having a panic attack about it – or maybe about his control freak girlfriend. Roemi was stood up by his nervous and not-really-ready-to-be-out-yet date. And Candace is just in town for the night and trying to avoid a cop determined to bust her for tagging. Somehow, these four collide and break apart over and over throughout the night, learning things about each other and themselves along the way.
Well written, with characters that are very human in having relateable and totally unlikeable moments, but they all come out a little better, and the ups and downs of their attempts at adventure (which keep getting squashed) are a fun ride to read about, rather than feeling like a way of forcing different characters together. For a teen in the last half of high school, I think this makes a nice light take on a coming of age that they can read on the surface or a little deeper.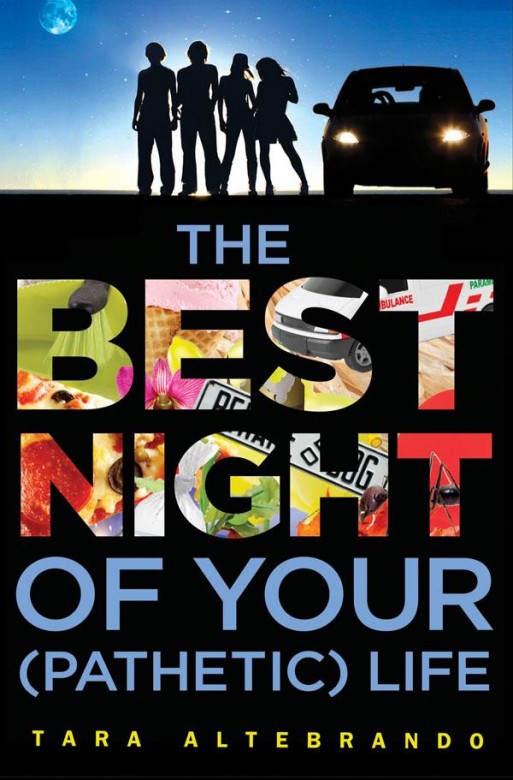 The Best Night of Your (Pathetic) Life,          by Tara Altebrando
Speak/Penguin, ISBN: 978 0 14242 640 1
It's a tradition – the great scavenger hunt for the graduating senior class, run by the previous year's winners. A tradition that Mary has been strictly and specifically prohibited from joining in, despite living for it. Despite the fact that she is BURNING to win, if only to show Barbone that he isn't better than her. What's a nerdy goody-goody to do? Skip out and start breaking rules like crazy, apparently.
This is a much wilder – and more fun – night than in Tag Along, above, but Mary also learns a lot more about herself on the way, so the whole experience is a bit more amped up, and a way fun read. The things they get up to in the name of the hunt are fun, silly, occasional rule-breaking and tricky, and add risk to their night, while testing the whole team in different ways. By the end, none of it has gone according to plan, but they each walk away glad to have done it and with a new look at themselves and each other. All the better to fit a coming of age moment into one wild night…