I love books where music plays a key role, and these two new ones hit all the right notes.
Blues for Zoey, by Robert Paul Weston
RazorBill, ISBN: 978 014 318328 0
Kaz has never met anyone like Zoey, and he's fascinated right away. With her, her music, her sense of style, everything about her. The fact that she's a bit of a misfit doesn't bother him much – he's so focused on saving money to send his mom to a clinic for her sleep disorder, his last girlfriend broke up with him for being cheap, and he's got to look out for his sister, too, so he's got plenty to keep him out of the social scene anyhow. Instead, he is immersed in his block in a not-great neighbourhood, sharing music with the jeweler across the street, working in the laundromat downstairs, a fragile connection to two homeless vets. And somehow, this summer, this same musician keeps coming up everywhere – until it turns out to be less serendipitous that it seems, and Kaz realizes Zoey is something very different indeed.
It's Weston's particular genius that he can write anything and draw you in, but this is his first contemporary fiction that I've read, and his characters weave the same spell, pulling you fully into their world. He still has a trick up his sleeve, though, and this is a story with a major U-turn twist at the end that left me reeling because it is pretty harsh, and I just did not see it coming. No spoilers here, but if you've read Dust City or Zorgamazoo, you're in for a surprise that will stick with you – and that's not a bad thing.
Also available as an ebook.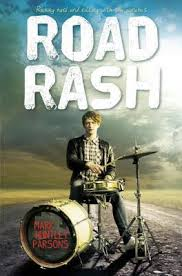 Road Rash, by Mark Huntley Parsons
Alfred A. Knopf, ISBN: 978 0 385 375342 5
Zach's old band isn't really great, but sometimes he and his friend can get a good groove going – until the egotistical band leader kicks out Zach in favour of a new drummer with connections that can get them gigs and access to recording for a demo. He's not thrilled – until he gets into a new band, a band that sounds better and are about to hit the road touring real gigs in a few states. It's not all as awesome as it seems, though, especially as tensions between the band leader and the front man start to flare over things Zach doesn't fully understand or want to back down on.
Life on the road, with its ups and its downs, is well portrayed here, and the egos and personality clashes that can arise seem pretty natural given the long stretches in close quarters. Zach is the newbie here, and he is learning about the politics, professionalism, pleasing a crowd, adjusting on the fly, and most of all, work together onstage and off. We get to learn it all with him, and it makes for a really interesting read. What I loved the most, though, was the descriptions of the music. How it feels when all the parts are coming together perfectly. How the rhythm section of bass and drums work together to anchor the band. How tracks layer together to make a song feel complete and bring out the sound or mood you're looking for. This is where Parsons background in music and music journalism really shines, and you can tell he's really passionate and knows this part from the inside. This makes for a really great read for a music junkie in your life!
Also available as an ebook.