Mo Willems has made himself a household name in kidslit by being an unstoppable force of funny. These two newer ones only reinforce why he is right at the top of the heap.
Goldilocks and the Three Dinosaurs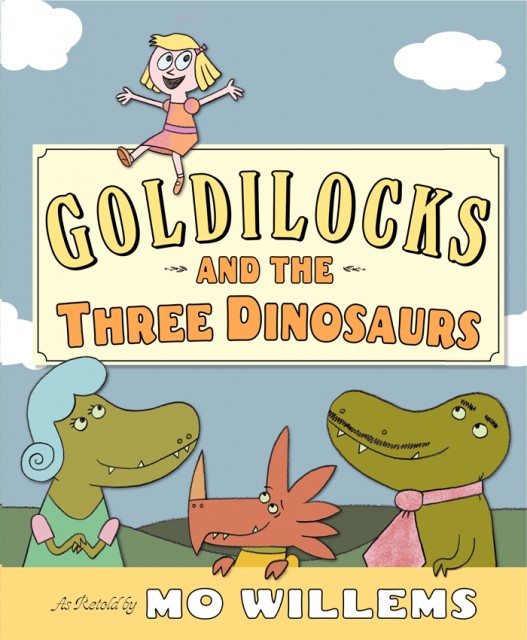 Disney/Hyperion, ISBN: 978 0 062 10418 2
When three dinosaurs carefully prepare some chocolate pudding and leave the house to hide in the woods, they are delighted to see a young girls with boundary issues let herself in and make herself at home. Luckily, Goldilocks may be wiling to eat their pudding, but she is not quite as easily tricked as they hoped, and this ridiculous and very funny twist on an old fairy tale ends with quite a different moral than we are used to. It's a fairly sophisticated take on the fractured fairy tale, though it looks simple enough, and you may need to point out some of what is going on for younger kids, but this makes it a read with range, as older kids will fully appreciate those bits.
Disney/Hyperion, ISBN: 978 0 062 20309 0
A nattily-dressed fox invites a sweet-looking goose for a walk. She agrees. A little clutch of chicks shouts that that is NOT a good idea. She goes anyhow, and as the fox invites her along into the woods and into his home and to help make some soup, the chicks get more and more agitated until, after a twist ending that I did not see coming, they point out that they really did say it wasn't a good idea… Did I say twist? I literally laughed aloud at the library desk from sheer delight over it. This one is more straightforward, and a great one for a range from preschoolers (maybe even toddlers?) on up. The format is reminiscent of a silent film, and keeps the text short and simple, at the same time that it adds a little charm.