Little creatures have NO sense of direction! In both of these cute books, they find themselves far from home – though you can be assured, it will all work out.
The Bear's Song, by Benjamin Chaud
Chronicle Kids, ISBN: 978 1 452 11424 8
A little bear is not tired when it's time to hibernate, and disappears, following a bee he hopes will lead to honey. His father follows him, and finds himself in the city, and eventually chases him through the opera house! When he abruptly finds himself on stage, he's not sure what to do. Maybe he should sing a song? The audience runs away – except for one furry little member. Turns out, he has found honey after all – on top of the opera house! (Did you know it's true that there is an apiary on top of the Opera House in Paris? Really!)
This is a story both sweet and full of fun little details to find in the busy, retro-style pictures. The little bear is hidden in each image where his dad is looking for him, as well, which adds an extra dimension to the book as readers can hunt for him themselves.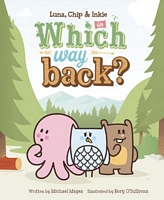 Which Way Back?, by Michael Mayes
Knowledge Kids, ISBN: 978 0 994 85883 5
This younger book about three friends who get lost in the woods is illustrated in a cartoon-y style reminiscent of animation like The Octonauts – simple, bold lines, and expressive faces. The three follow a butterfly through  the woods, and then realize they don't know which way to go to get home. They begin to worry. Luckily, the owl is able to fly up and figure out where they are, and they work out a plan to get back, just in time for nightfall. It's cute and satisfying for a younger kid, let's say a preschooler or a kindergartner would be the ideal audience.