I haven't been much on the whole paranormal thing, but these two new teen books are deliciously good – and full of ghosts and demons.
Unbreakable: The Legion, book 1; by Kami Garcia
Little, Brown; ISBN: 978 0 316 21017 1
This first book in a new series introduces Kennedy to The Legion, a secret society tasked with continuing to contain the demon that their ancestors summoned but could not banish. The new generation has been abruptly put in charge when their parents were all killed in one night – but Kennedy has serious doubts about whether she belongs to this group. A few dangerous and heavily haunted missions later, the group has all the pieces for a magical device – but does it do what they think it will?
It's a fun, fast-paced read, a sort of mashup of Dan Brown secret societies with Buffy-style slaying and a bit of heist-movie specialties within the team. I didn't want to put it down – and honestly, I am now super annoyed that I read the first book of a series and am now itching for book 2, but since this just came out last month, I am on ice for a while. Grr! So good it's maddening to have to wait for!
Also available as an ebook. Intrigued? Kobo is offering a 7-chapter ebook preview! Ooh!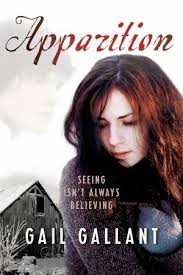 Apparition, by Gail Gallant
Doubleday Canada, ISBN: 978 0 385 67962 6
Amelia's totally in love with her best friend – and this book starts when he dies in an old barn after acting very strangely, and suicide is suspected. She doesn't believe it, and she is quite ready to believe someone who tells her that something is going on with that place, because his teenage friend died the same way in the same place. When her brother seems to be possessed by something and tries to kill himself there as well, she starts to seriously try to figure things out. Her ability to see spirits helps, of course…
This atmospheric book makes full use of its setting in rural Grey County, Ontario, making it a perfect read for fans of books that sneak up on you with a creepy, spooky feeling. It's a big contrast to the one above, which is full of action, and it has a beauty all its own, if you don't mind a slower, quieter pace in a novel.
Also available as an ebook.