Hockey season is done. I am so not into soccer. And to be honest, baseball is not my game, either – but I know plenty of people love it. My entire in-law family, for example, who have season tickets, go as a family event, and usually take my kids a couple of times a season. For families who love baseball and breathe it every summer, the lore of the sport is as much of the magic as this year's games, and sharing some of the legends is a great way to pass along the love of the game. even for those who don't, getting to meet a hero, feeling like the odd one out… it's got some great storytelling moments to its credit, too.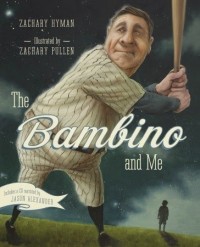 The Bambino and Me, by Zachary Hyman
Tundra Books, ISBN: 978 1 770 49627 9
This story is what we refer to as an "advanced picture book," that is to say, a book in picture book format, but aimed at older, more sophisticated readers than your usual picture books crowd of 0 to 7 or 8 years of age.
It's about a kid who is a major Yankees fan, a worshipper of Babe Ruth in particular. he knows his family can't afford to go to a game, but his Babe Ruth baseball card so much, he carries it everywhere. Then one birthday, there are tickets to see a game! He is ecstatic – until he opens another package from his uncle in Boston, which contains a hat and jersey for the wrong team. He's devastated and ungracious, and even worse, his mom makes him wear them to the game. It turns out better than okay in the end, when he meets his idol, who gives him his own cap and jersey, as well as signing his treasured card.
The disappointment and sense of treachery around the wrong jersey sound very familiar if you grew up on The Hockey Sweater, of course, but the big man's words for his fan are wonderful and gracious, and it's clear he truly gets how the poor little guy feels, which makes for a really, really nice moment. The emotions of the narrator are captured perfectly, and the illustration style complements very well, with a brilliant blend of character and comedy in the faces, especially. For anyone who has had a hero, this is the meeting they wish they cold have, and it's a heart-warmer.
This book also comes with a CD narrated by Jason Alexander – yes, of George Costanza fame – which is kind of perfect, because not only is the character George Alexander, but also, perfect voice for a 1920s Yankees fan, don't you think?