There are many, many excellent books written about the war experience, about the Holocaust, and even about the children of the Kindertransport – but what about the aftermath of the war?
Two new novels for teens introduce something we don't always hear about – what happened after the treaties were signed? Life didn't just go right back to normal for many people, after all.
Graffiti Knight, by Karen Bass
Pajama Press, ISBN: 978 1 92748 553 8
After the war, Germany was divided into sectors by the Allies, and Wilm lives in Leipzig, in the Soviet sector. The city is full of ruins, and occupied by Soviets and police forces under their control, the inhabitants hungry and frightened, mostly just trying to scrape by and avoid notice.
After witnessing his father being beaten  and learning that his sister had been raped by four Soviet soldiers, Wilm no longer feels it's enough to avoid trouble – he wants to strike back. With his father bitter and angry about his war injuries and his sister a ghost of her old self, his own anger boils over into a series of small sabotages that mock the occupiers and police with the help of his friends. When one of the plans goes awry, though, it gets serious, and he, his friends, and his sister flee their sector, running for the border of the American zone.
This book deals with some of what it is to live under oppression, some of the aftermath of his sister's attack, and some of his father's anger at being made less able. Serious stuff, yet the writing touches as lightly as it can on the physical, concentrating on the emotional centre of the damage the war has caused, making it suitable for about grade 7 on up. This would be an excellent one for discussion.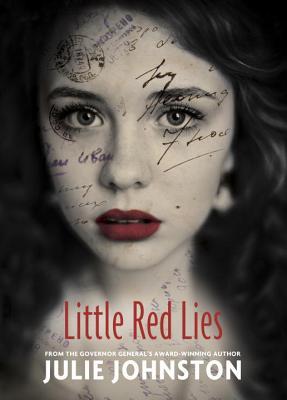 Little Red Lies, by Julie Johnston
Tundra Books, ISBN: 978 1 77049 313 1
When Rachel's brother comes back from the war, she is elated – she will have him back! But things aren't what she expects. Jamie is restless, lost, and sick. Her parents are busy with their own worries, which soon turn out to be a major, life-changing new addition to the family. And there is a new teacher at school who is ready to give her all the attention she craves…
Jamie struggles to find a path for himself after returning home, and to figure out his place in his family, who are equally unsure of how everything fits now. Worry abounds in this story, but somehow despite all the tension, Rachel's personality never lets it feel heavy. There's a lot going on, so her attention moves between plot threads, but is easy to follow. There are times that feel like this may all end badly but the ending is pretty satisfactory. What really makes this story is Rachel herself, who is naive, prone to drama, and has some growing up to do, but is very, very relateable and easy to read.
Also available as an ebook.