My dad and I were talking recently about of friend of his who has been blind since birth. We are in complete awe of her ability to function almost as normally as a sighted person. Sure, she has a seeing-eye dog and some cool electronic gadgets to help her out, but she is amazingly capable considering how tough the world is to navigate.
Speaking of her got us wondering whether it is true that other senses are heightened when one sense is missing. My dad's friend certainly seems to hear well as she recognizes his voice without him identifying himself. I would think that she'd also have to rely on her sense of smell, especially when cooking. After all, one wrong herb will ruin an otherwise perfectly prepared dinner (I say with knowledge).
Isn't it incredible how a scent can bring back a memory? To this day I can't smell damp earth without remembering my grandparents' basement, chocolate chip cookies in the oven without thinking of my aunt, or Noxema without missing my mom. And every time I've raked leaves this fall, the smell of mulch brings me right back to those mounds of leaves I jumped in as a child. And then there's the smell of burning food…that stench fastidiously reminds me of all the meals I've burnt before.
For Jo, in The Secrets of Lake Road, it's the smell of the lake that induces the most memories. The reedy, dank smell of it, infused with the sun-baked earth, transports her to the summers of her youth—the happiest time of her life. There was something about being at the lake, something freeing and forgiving, that made her run wild, unchecked. She spent hours at the Pavilion—the hub of the lake community—listening to concerts, swimming, and teasing boys. She was beautiful…and acutely aware of her new-found power over the opposite sex.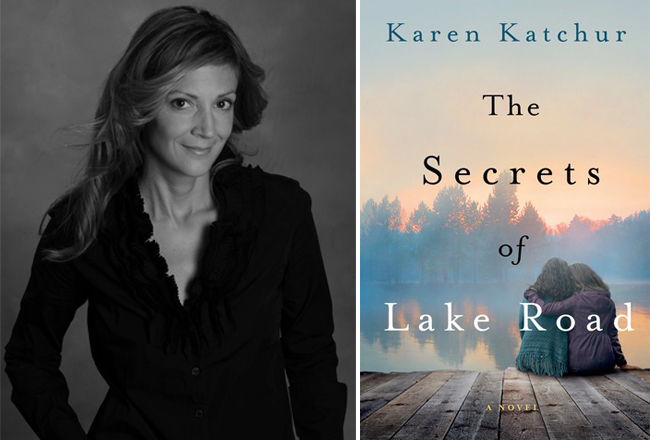 But now Jo's memories are no longer good ones, and she can hardly bear the few hours it takes to drop off her children at their grandmother's cabin. In the short time she's there, the murkiness of the lake clings to her skin like a shroud. For Caroline, Jo's 12-year old, Jo's reaction to the lake community is disappointing and confusing. Why can't her mother vacation with them? What makes her flee the lake so quickly? Caroline's grandmother avoids her questions and her brother couldn't care less, so Caroline is alone in seeking out answers to her mother's strange behaviour.
When a little girl goes missing and is suspected drowned, the Recovery team unearths something that shocks the community. Jo becomes more haunted than ever, and Caroline can sense that her mother is frightened. What happened so long ago that no one will talk about? Caroline is determined to find out, but what she doesn't realise is that the answers, if discovered, could jeopardize her innocence.
Told in the alternating narratives of mother and daughter, The Secrets of Lake Road is both a coming-of age story and one that is plagued by guilt and long-held regret. Sometimes the past is better left buried.
Karen Katchur lives in Pennsylvania. The Secrets of Lake Road is her first novel. St. Martin's, 2015.