There's a lookout tower in Dorset, Ontario, that owns me. It's a hundred-foot tall steel structure that provides a beautiful view of the surrounding lakes. Or so I've been told. It's one of those scenic towers with grated steps. You know the kind: climbing it involves watching the safe, firm land you've purposely abandoned fall away with each step up you take. My hands are sweating just thinking about it.
My daughter has no problem getting to the top, but I've never made it higher than the third set of steps. I just can't do it. I've tried about five times, but every attempt has ended the same way… with failure. It's a deep-seeded fear that I just can't seem to shake. And I'm okay with that.
Tower-5; Me-Zippo.
I blame my fear of heights on my parents (because really, if we can't blame our parents for our shortcomings, who can we blame?). I was a teenager when they took me on a trip to Mesa Verde, a national park in Colorado. The Anasazi lived there in rock dwellings between 600 and 1300, and my family took a walking tour of the ruins that included climbing a wooden ladder up the sheer side of a cliff. It was terrifying, and I've never gotten over it. Hence, my inability to conquer the Dorset tower.
In Jennifer Niven's novel All the Bright Places, Finch and Violet have no trouble getting to the top of the bell tower at their school. In fact, it's the place they first meet. Finch climbed the tower as a death wish; Violet in a moment of overwhelming grief over the loss of her sister.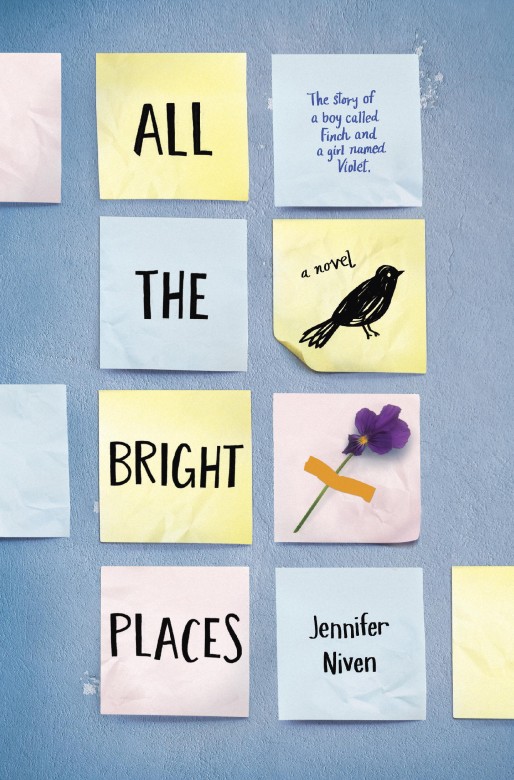 Talking each other off the ledge cements a bond between them: Violet (the pretty, popular girl) and Finch (the freak) partner up for a Geography assignment and begin "wandering" around Indiana in search of significant landmarks. Their quest to seek out important sites simultaneously allows them to explore and dissect their own insecurities, and over time the bond created by a shared secret turns into one fused by a deeply emotional connection.
Both are damaged, but together they discover that there's more than one way to save a person: Finch gives Violet a reason to move forward; Violet quiets Finch's mind… at least for a while.
But some scars run too deep and love can only do so much.
For Finch anyway, that ledge is always beckoning.
Vibrant, charming, and, at times, downright funny, All the Bright Places is a haunting love story that explores our fight to find meaning and beauty in a world that isn't always fair. It will shatter you with its loveliness.
Jennifer Niven is the author of germmagazine.com. All the Bright Places is her eighth book, but her first Young Adult novel. Knopf 2015.