About a week after returning from our family vacation to Bald Head Island, North Carolina, my teen son was trying to describe it to a friend. He finally turned to me, frustrated, and said, "I've told him about the house, the beach, the golf and the pool, but what else did we do? It was such a great trip…that can't be all we did?" Well, actually, yes that's all we did, and that's why it was so great.
Our family has been vacationing in South Carolina for years and years, so when Jen invited us to join her family for their summer trip down to North Carolina, we thought we knew what we were getting ourselves into. We underestimated just how fabulous it would be. Bald Head Island, North Carolina is different from any other place, and it's the perfect place for a couple of families with normally crazy schedules to kick back and relax.
How to Get There
Bald Head Island is a village located on the east side of Cape Fear. The closest city to fly into is Wilmington, NC, which we reached after a 14 hour road trip from Toronto. What makes Bald Head unique and special is that it is accessible only by ferry from the nearby town of Southport. Indeed, there are no cars on the island, and visitors drive electric golf carts. This change in traffic immediately changes your mindset to a slower and more relaxed pace, perfect for the natural beauty and picturesque nature of the place.
Where to Stay
You won't find any hotels or luxury resorts on Bald Head Island, but you'll find amazing comfort and luxury in the homes available for rent. We stayed in a home available through The Best of Bald Head Island and were taken care of from the minute we disembarked the ferry. Our tram took us directly to our home, which was just a five minute drive from the marina (the entire island is less than six square miles, so nothing is much more than a five minute drive in the custom golf carts that scoot all over the well-maintained paths).
On pulling up to our gorgeous home, we ooh-ed and aah-ed at the great screened in porches, beautiful modern kitchen and comfortably appointed main rooms.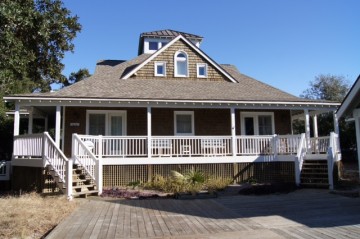 The kids were excited that the home came not only with three large bedrooms (and three full baths), but also two "crofters"; essentially guest houses with fully equipped bedrooms, bathrooms and kitchens. Had we actually stocked the kitchen in the crofter adopted by the three teen boys, we may never have seen them in the main house!
Walking around the house we caught our first glimpse of the gorgeous views we'd be treated to all week long. Our home was on the marshes, and included hammocks on the private dock and three kayaks, which were well used for exploring this amazing part of the landscape.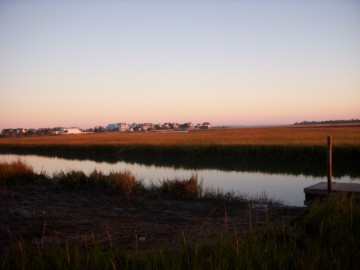 What to Bring
There are a couple of restaurants and a great grocery store on the island, but the rental homes are so comfortable and well stocked with kitchen utensils and appliances, that you'll want to spend most of your meals at home. Bring a couple of coolers with the main course supplies (and the bottles of wine) so that you can use the grocery store to round out your meals, and to supply the dessert (or check out the fabulous homemade ice cream at Sandpiper Cafe in the harbour). The properties are equipped with all of the linens and everyday supplies you'll need. Most rental homes come with beach chairs and toys, boogie boards and fishing rods. You'll just want to remember your own tennis rackets and golf clubs. Other than that, just bring a few books and be prepared to relax. My husband, who only gets around to one book a year on average, went through three novels from this vantage point over our week long holiday.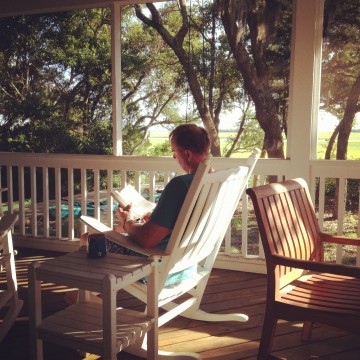 What to Do
We very quickly fell into a relaxed routine of piling our beach supplies and gear into our golf carts for a morning trip over to one of the fabulous beaches, where the kids would wile away the time body surfing, playing bocce ball or football, while the adults did a whole lot of this.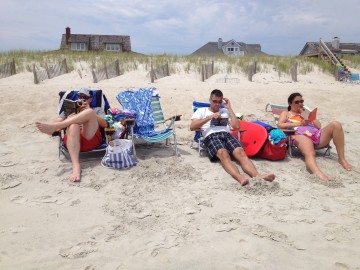 Mid-afternoon, we'd head to one of the two private clubs on the island (weekly membership is included with many of the home rentals) and spent time in the pool there.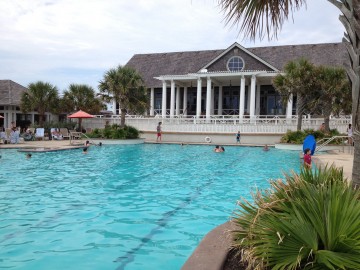 As mentioned, there's a beautiful golf course (watch out for the alligators!) and tennis courts for those looking for a little exercise.
No visit to Bald Head Island is complete without a trip up Old Baldy, the oldest still standing in the state. In the evening, there are beach parties and festivals.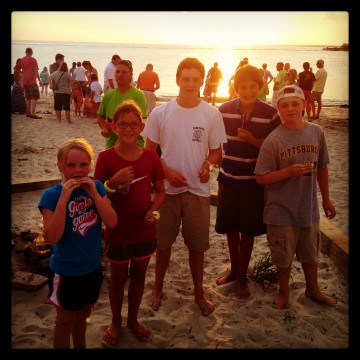 When to Go
Summer was a beautiful time to visit Bald Head. The temperatures were warm and the ocean was wonderful. But this destination cries out for return visits to experience the cooler temperatures of Fall (perfect for golfers), the holiday decorations in December, and the early Spring. Temperatures rarely get lower than 15 degrees year round, and peak in the low 30s through the summer. Essentially, Bald Head Island is a fabulous destination for a family reunion, multi-family getaway, couples retreat or girls weekend.
No shopping outlets, no amusement parks, no water parks. There's a whole lot of nothing to be done, and the family memories we have of that are absolutely amazing.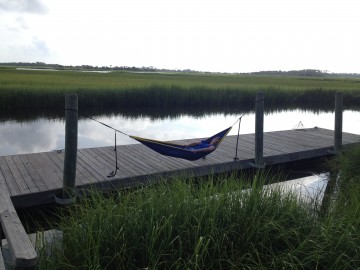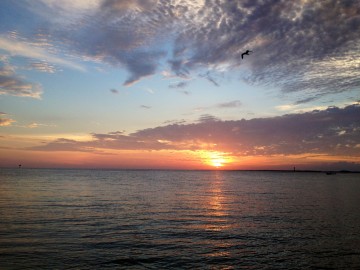 This post is sponsored by Wendy Wilmot Properties. The experiences and opinions are my own.