It's sultry and intensely passionate. ARRABAL arrives in Toronto for it's World Premiere bringing the passion and history of the Argentine people. The story of ARRABAL is told entirely through dance and music. Tango moves are modernized and even more expressive than ever before.
ARRABAL is based on the true story of the political violence that threatened to destroy Argentina in the 1970's.  The story follows the life of ARRABAL in a coming of age story. As a baby, her father went missing and she was left for care by her grandmother in a small shanty town. The story picks up when she's 18 years old and visits the exotic and seductive side in the tango clubs of Buenos Aires. Here she takes a journey in self-discovery and learns about her father's fate.
A bit of history, in 1976 Argentina witnessed their democratic government overthrown by military leaders. Under new rule anyone who opposed its rule was kidnapped, tortured and killed. Young men and women "disappeared" from Argentina and the regime claimed no knowledge.
The Mothers of the Plaza de Mayo is a incredibly emotional scene and expresses the deep unwavering and non-violent protest by the mothers of the missing. Historically, the mothers would gather once a week in front of the Presidential Palace in Buenos Aires with pictures of their missing children hung around their necks and walked in silent circles.
No words need to be spoken to express the emotions and energy.  "The narrative vocabulary of this piece is dance. The challenge was to tell the story with clarity and power  through choreography,"  said John Weidman, writer of ARRABAL. However, the use of archival news footage helps bridge the understanding and background of this tumultuous time in Argentina.
Music of ARRABAL is performed live by Orquesta Bajofonderos assembled by multiple Academy Award winner, Gustavo Santaolalla (Brokeback Moutain, Babel) and his band Bajofondo – winner of three Latin Grammy Awards. The music is a contemporary blend of latin, milonga, electronic, jazz, hip hop, folk, rock and classical.
"With this story, we wanted to tell the real story of Argentina but in a modern way," said Gustavo.  "I've always been interested in the concept of identity, that is, expressing who I am and where I have come from. About the music, I've mainly mixed sounds from Argentina and Latin America and folk music. I was very interested in tango as it's part of my genetic musical make up but I am very respectful of that genre. It's very sophisticated and very popular music but we wanted to mix it with contemporary music like rock, electronica, and hip hop."
The show is gorgeous and the dancers are all incredible. ARRABAL, performed by Micaela Spina, is great as lead and no one could keep their eyes off of Juan, played by Juan Cupini. There are many well-known Argentine performers in this show including Carlo Rivarola (El Puma), who has garnered many accolades worldwide. There was much hype in the audience as someone had mentioned that choreographer Julio Zurita, who also plays Rodolfo,  is a famous dancer from Buenos Aires who has appeared in movies, theatre, operas, and commercials.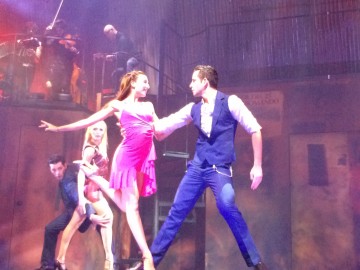 ARRABAL is amazing!  The energy of the performers and the love from the audience melted into one big dance party on the stage after the performance last night. I had heard a gentleman tell someone it was already his third time to see this show which just opened on February 4th.
The show is now playing until April 20th at the Panasonic Theatre (651 Yonge Street, Toronto). Running time of the performance is 90 minutes without intermission.
*Note: the show is recommended for audience members 14 years of age and older. The show contains adult themes, some partial nudity and suggestions of violence.
Tickets are $44-$84. Online ticket sales: www.mirvish.com or call Ticketking at 416-872-1212 or 1-800-461-3333.
By the way, if you've ever wanted to learn how to TANGO, don your dancing shoes and arrive 45 minutes earlier for free lessons before the show. At yesterday's performance this was very popular!