Last week my boyfriend and I escaped on a much-needed 24-hour getaway to the Drake Devonshire Hotel in Prince Edward County. Just two hours from Toronto, Montreal and New York, I don't know why we hadn't done this before. It was so close, yet felt so far away from our lives as parents.
The moment we arrived we began to relax. I stopped worrying about cleaning the house, making dinner, folding the laundry and what my boys were up to in that exact moment. It can be hard to completely shut off from being a mom, but our delicious lunch in the dining room helped. The floor-to-ceiling windows offered a beautiful view of the lake and my boyfriend and I were able to really enjoy each other's company—and not have to worry about anyone finishing everything on their plate!
The Drake Devonshire hotel opened in the spring of 2015 and if I had to describe it in three words it would be quaint but chic—isn't that exactly what you'd want from a weekend getaway in the county? The hotel has elevent room and two suites, a games room, fire pit, dining room and even a photo booth.
After we settled in, we went on an afternoon tour of some of the local boutique wineries. Our organized tour began at Norman Hardie, followed by Rosehill Run, Hinterland Wine Company and Keint-He. By the end of the day, we had learned so much about wine making in the region and had tasted our fair share—we were in desperate need of a nap. And unlike our kids, we weren't going to fight it!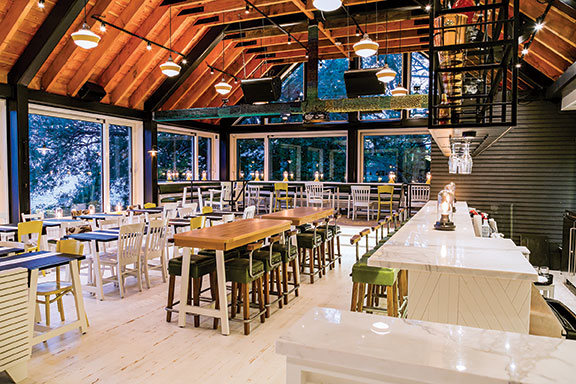 We took advantage of the games room and got a round of foosball in before dinner. I wasn't happy to lose, but I didn't take it so badly because we were on our romantic weekend getaway after all. We sat down to an amazing dinner and drinks. We talked for hours and really reconnected in a way that sometimes isn't possible when you're at home, surrounded by the day-to-day business of running a house and parenting.
It was a really rare opportunity for the two of us to talk about ourselves and focus on our relationship as opposed to talking about the kids and focusing on their needs. After dinner we played a bit of ping pong before calling it an early night. I went to bed feeling like my boyfriend and I had reconnected with each other in a really meaningful way and I was content.
I slept in until almost 9am and it felt completely luxurious, it's something I never really do at home. Truth be told, it felt amazing. My boyfriend had an in-room massage and I took a table in the main dining room. I opened my laptop and did some work. I loved looking out at the lake, leisurely sipping the coffee that was put in front of me, the decor and ambiance. I was able to think and reflect and take a few moments to myself. But alas, it was time to go home and back to reality.
As we went to check out the woman at the front desk asked us about our kids. "How many kids do you have?"
My boyfriend and I looked at each other and smiled. We had been so relaxed, so in our own world, that we nearly forgot about them. Thank goodness we had the two hour ride home to get back into parent mode. When we finally got home, we were thrilled to see them, but for a few hours in gorgeous Prince Edward County, it was nice to just be on our own. We are already planning our next visit… and maybe this time we'll bring the kids along (if they're lucky)!