One week ago today my husband traveled down the long stretch of 401 making his way to London.
He was on his way to Victoria Hospital to see his cousin, Kevin who had been in a serious single vehicle collision the Friday night previous and was on life support.
Sean hedged several times on going to see Kevin. He didn't want to see him like that, but desperately wanted to see him.
I think the pull was going and being with the people he was close to – his cousins. Sean only has sisters so his cousins have always been like brothers to him. Kevin especially. He was even in our wedding party and stood with us on one of the most important days of our life.
Sean arrived at the hospital and was greeted by dozens of arms waiting to hug him. He went into the room and spent some time with Kevin. Spent some time with aunts, uncles, cousins. The people who he needed to be with. I'm so glad he did.
A few hours after Sean left the hospital, the decision was made to remove life support. Kevin passed away peacefully just after midnight on Tuesday.
Wednesday Sean and I arrived at the funeral home for the visitation. I'd never seen a crowd like it. After we shared warm embraces (but spoke no words) with Kevin's immediate family members, we chatted with Sean's rather large extended family.
All still in shock that we were there. For that.
At one point I stood quietly observing the room. The hum of chatter. The sniffling noses. The laughter that would peel out of nowhere – no doubt as people were recalling something Kevin had said or done. I know we have enough stories to pen a novel…
I watched people hugging, crying…The sadness was heavy but something struck me and has stayed with me since that moment.
The parallels of life. As we all gathered to share our grief/sadness/memories my mind wandered to other places. To the families that were gathered in hospitals celebrating. Relieved that their loved one got the phone call they'd been waiting weeks or months (or even years) for just days after we got the call we never wanted.
Kevin was an organ donor and his generosity has improved and or saved the lives of 84 people. Eighty four people. Staggering isn't it?
The gift of life. The gift of sight. The gift of a better quality of life. For 84 people.
There was joy present for them as sadness was present for us.
In the midst of our grief and shock, somewhere else, people were celebrating.
They were celebrating Kevin's gift to them. I don't doubt for even a second that those celebrating didn't have Kevin and his family on their mind.
At the funeral we were all given a green ribbon to show our support for organ donation. I wore mine proudly in honour of Kevin and the decision that I made long ago to be an organ donor. That decision was totally reaffirmed.
I've signed my card and registered. Have you?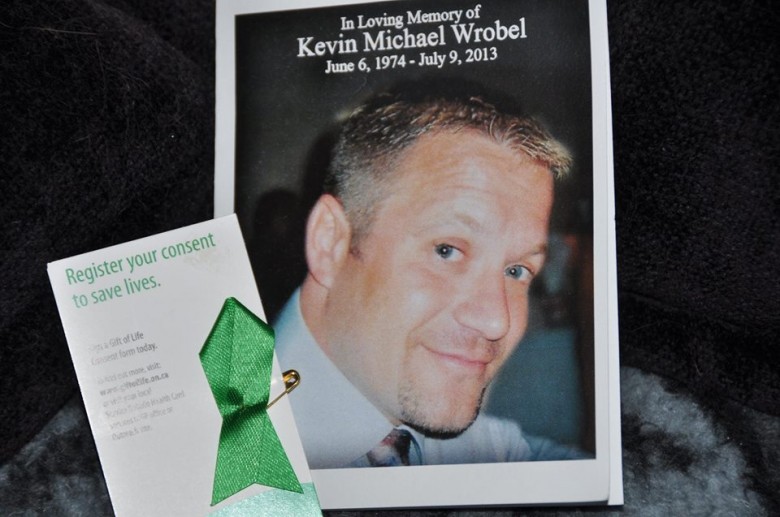 photo credit: Jody VanBree