We know what you're thinking. Valentine's Day is just around the corner. But seriously, no pressure. None. It's a day for getting together with who you love rather than all the lavish gifts and silly mushy things. Honey, I know you love me and it doesn't take a designated day to confirm that. But having said that, since "V Day" falls on a weekend this year it may be just the perfect time to take a time out as a couple.
My mother-in-law always reminds me that we're not just "mom and dad" but we are a couple first and that definitely is worth time and effort.
So, a steamy weekend getaway? Yes, you can do it.
In a global survey conducted by HotelTonight, a last-minute app for booking hotel rooms, statistics revealed that more than half of Canadians (53.5%) feel more "adventurous" in a hotel room. The survey also found that 1 in 3 Canadians believe sex improves at a hotel. It also mentioned that 37.5% of you believe your partners step up their game, while 30.5% of you feel like your own game steps up a notch.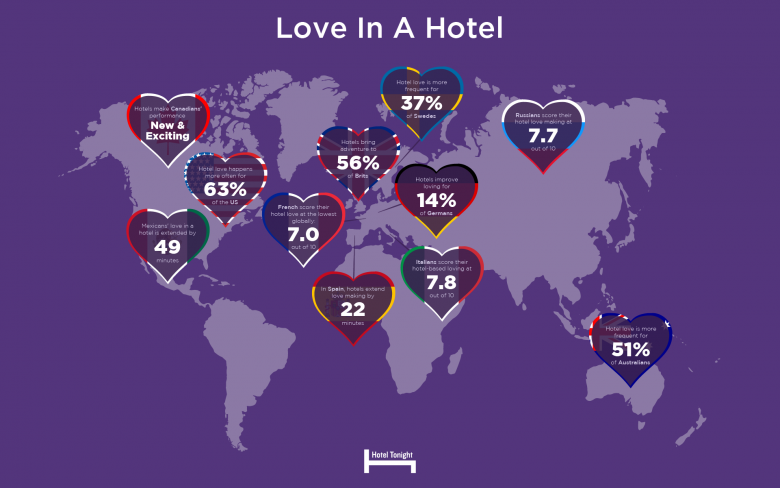 Is it the new and exciting surroundings? The freedom being away from family and kids? You bet! (Trust me timing is more challenging when you have a teenager that DOESN'T SLEEP until later in the night.) More than 2,200 people from 11 countries, who have gotten hot and heavy in a hotel room in the past three years, found a few more surprising results.  How do we compare?
North American countries lead globally when it comes to feeling more sexually adventurous in a hotel room. Seventy-three percent of Americans feel more adventurous while in a hotel and 54% of Canadians (my, aren't we modest!).
When staying in a hotel, Brits do it on average 2.6 times more than at home, a close comparison to Canadians who make love 2.3 times more. Overall the two countries cited very similar statistics in the steamy survey.
American men believe that making love in a hotel room lasts on average 10 minutes longer than their female counterparts do, while Canadian women believe that steamy hotel sessions last longer than their male counterparts think they do.
All participating countries, except Italians, Australians and Russians believe their partner's performance improves more than theirs in hotel rooms.
In a hotel, Mexicans (8.7) and Americans (8.2) rate their performance the highest with the French (7) scoring themselves the lowest and Canadians and the Spanish giving themselves the average rating of 7.6.
So have we convinced you? A staycation is really never a bad idea and we think Valentine's Day is the perfect excuse to get out as a couple, get pampered and maybe get a bit more adventurous with each other. Check back with us soon for our full list of the best Canadian hotels for Valentine's Day and avoided the dreaded US dollar on February 14th!