I started thinking about Valentine's Day a few weeks ago when hubby asked where I wanted to go for dinner around Valentine's. He loves celebrating all those special days throughout the year. Around the same time of his inquiry, I bumped into Liloo Alim at an event and we had a nice chat. She's one of those people who always puts a smile on your face just by being in the same space as her.
Her name may sound familiar to you. Liloo has celebrity-like status in the hospitality industry in Toronto and she has earned her place rightly so. She's the Chef Concierge at the Four Seasons Hotel and has set the standards very high. However, the top of the concierge desk is a long way from where Alim started as Garage Cashier in 1978. After being promoted to Junior Concierge within her first year, she promptly impressed a visiting General Manager who offered her an opening slot at Four Seasons Hotel Ottawa. By 1987 she was back in Toronto and being honoured as the first woman in Canada to earn membership in Clefs d'Or, the international concierge association. But for a few temporary assignments in Asia – including opening Four Seasons Hotel Mumbai in her hometown in 2007 – she has been at the Hotel ever since.
She's got to be the most connected person in town. You definitely want to know her but she admits "You can't be a concierge in a hotel like this if you don't deliver the goods."  I'd love to sit down with her one day and hear about some of the wildest requests but I doubt she'll share those stories! I know her reputation is on the line.
I had the opportunity to ask her a few questions about Valentine's Day – the romantic gestures and what she would recommend to do around the day of hearts. And hey, if you're reading this, don't you think it's a perfect time for a little getaway or staycation…I'm doing this now so you all have to sort out your babysitting! *wink wink*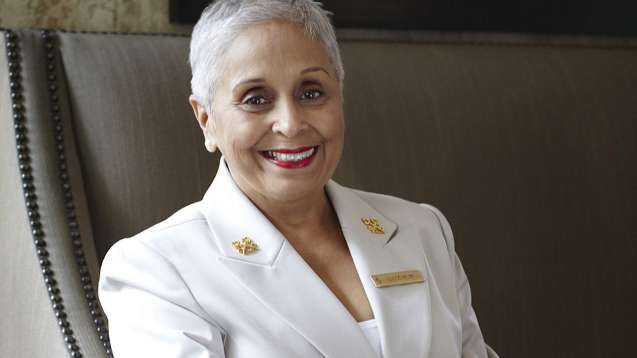 What was the most memorable or romantic request ?
LA: We had one guest decorate the room with his partner's favourite things. It acted as a time capsule of all the momentous occasions in their relationship. The guest provided a list of what to acquire and we placed them strategically throughout the suite. From her favourite eye mask on the pillow, to her special shampoo only available in France, we filled the room with gifts, flowers, candies and chocolates. We also created a special menu at Cafe Boulud with their favourite foods and upon their return to the room after their meal, was her main gift. A bracelet with 10, 1-carat diamonds to represent every year they have spent together.
Your favourite part of the city for a romantic walk?
LA: High Park
For a nice getaway weekend, what would you recommend?
LA: I personally think staycations are the best. We are so busy in our day-to-day lives and sometimes it's nice to be pampered in the city you actually live in without the hassle of travelling far. My ideal staycation would be to check into Four Seasons Hotel Toronto, make my way to the spa for a couple's massage, then head to Cafe Boulud for dinner followed by after dinner drinks at dbar while the dj plays. In the morning, there should be breakfast in bed, then back again to the spa for a steam and shower before checking out. I would even stop at dbar one more time to have the famous Yankee burger on the way out!
Dinner at the Hotel? What's on the menu?
LA: Cafe Boulud is offering a special Valentine's menu on February 14th & 15th featuring a four course prix fixe for $95/person. With an extensive menu to choose your items, highlights include the Nova Scotia Lobster Salad, Braised Short Rib and Vanilla & Raspberry Dome.
What are some special spa services for couples?
LA:We have a large suite perfect for an intimate massage for two. A favourite is one of our signature massages and, to make the most out of their time together, treatment enhancements can also be added on, such as a scalp massage with Moroccan oil.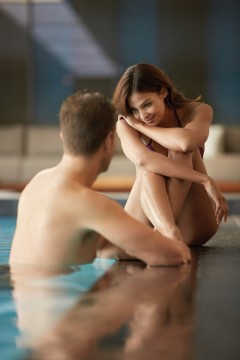 Guys feel pressure for Valentine's Day…what advice would you give them?
LA: Don't wait to the last minute to show her how much you love her. Listen for cues on what she likes/wants and create something special. Personalised is key.
The room with the best view?
LA: 2011 – the room has two floor-to-ceiling glass walls facing south and east. Truly exceptional!
What is your ideal Valentine's Day?
LA: Anything that comes from the heart but please, no flowers. Especially red roses.
Um….honey? Ahem.
Here's where to book www.fourseasons.com