"You know those things where you squish them and they are gushy and the stuff squeezes out through the other side of your hand? It feels like that!" my son said gleefully. What on earth was he talking about? Oh yes, that would be my belly. What does mommy's belly feel like? He was trying to describe the unique, yielding texture of a stress ball squeezed tightly in his little hand.
I guess I could have been offended by the rather unflattering comparison, but I wasn't. The reality is that I'm not the kind of mom to get wrapped up in the minutae of the process of getting my "pre-baby body" back. I'm not a get fit quick, get bikini body ready, nothing tastes as good as skinny feels person.
Seven years post baby, it's just not going to happen. I have given up waiting. It's not that I'm not dedicated enough at the gym; I am always happy to sweat buckets and buckets. It's not that I don't eat properly; I never met a salad I didn't like. It's just that my pre-baby body didn't go anywhere for me to get it back from.  It's been here all along.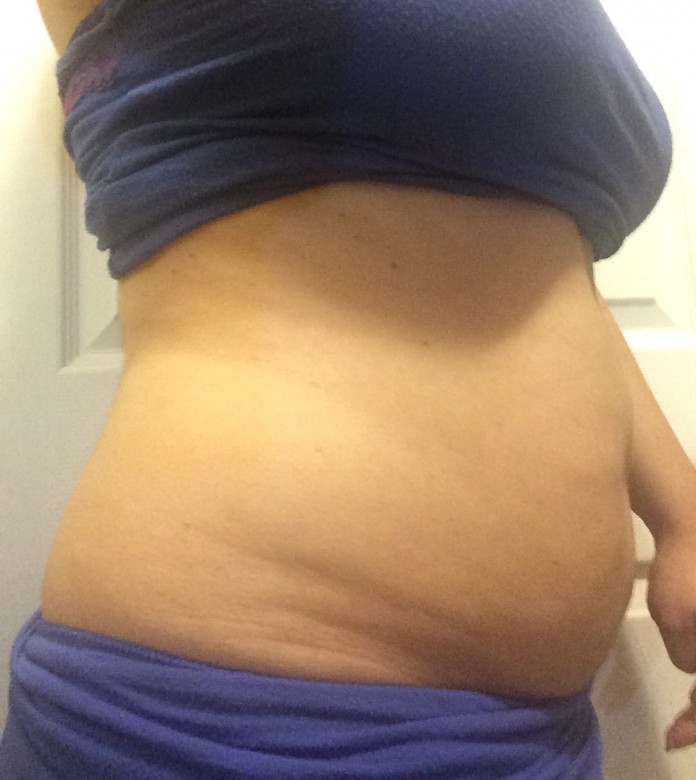 I was pregnant, not body snatched. It's not like my body is a car I left with the valet who is taking his sweet time to bring it around front so I can resume my day. If it were a car being returned to me at long last, it certainly didn't get dinged up and battered in the parking garage, now in desperate need of repair. It's current condition is a matter of opinion.
My son's opinion is always kinder than mine. On particularly rough days, he is the mirror I need to look in to see myself more clearly. Every month, I eagerly await the arrival of a shiny pink envelope of cosmetics. My son does not understand my excitement. He says, "Why do you buy makeup FOR NO REASON? You're already pretty, mommy." And then I melt, and whatever mascara I may be wearing slides down my cheeks in inky black droplets down the canvas of my ivory foundation.
I'm a mess, but a beautiful one according to my son.
He didn't mean to offend me in describing my belly. He was reflecting on the enjoyable sensation of giving me a great, big, squishy hug and how it feels just like squishing a stress ball.
Why is that? Because it always makes him feel better.