I was always a doodler. I used to doodle on the side of my notepads in school when I was a teenager. It was a way to help me think and while I didn't know it then, doodling is actually really important to our thought process. Luckily, I had supportive teachers who didn't mind the random doodles. I still keep in touch with my grade 11 marketing teacher who encouraged me to keep the creative juices flowing and reminded me that this was a great way to get thoughts out.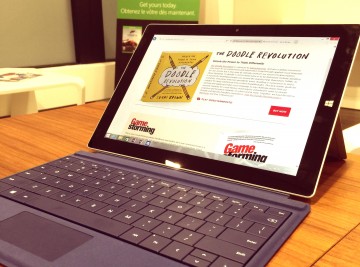 Sunni Brown was named one of the world's "100 Most Creative People in Business" and one of the "10 Most Creative People on Twitter" by Fast Company Magazine. She is the founder of a creative consultancy called SB Ink. She's also the author of The Doodle Revolution and a leader of a global campaign for visual literacy.
Her position of Chief Infodoodler has her jet-setting around the world to speak in front of business leaders, educators, kids and media.
Sunni and I got talking about the arts in school and how they seem to have been ignored more and more.
"Even I didn't grow up in an environment that was supportive of art, not because there was something wrong, but it just wasn't a priority. It wasn't a practical thing to study so they didn't see the application of art in other areas. It just wasn't encouraged." And BINGO! Our conversation went for an hour.
Art plays a valuable role in creative thinking and extends into all other areas in life. How we deal with situations and how we can expand our knowledge. "I believe that people are whole learners," said Brown. "We all have our nuances and complexities and we are not square pegs and that's what the Doodle Revolution is all about."
Brown considers her mission a global campaign for literacy which taps into our native instincts. "Which is what we all do universally, but as kids, when we go to school we're all taught art only in art class and not any further. It's not integrated into our other subjects and that's a problem."
"I spend a lot of time teaching adults how to use visual language and doodling in the workplace and naturally I encounter a lot of resistance because it's considered to be anti-intellectual and counter to serious learning. But I have a problem with that believe, because I know that doodling has a profound impact on the way that we can process information and the way that we can solve problems," said Brown in her 2011 TED TALK.
Brown continues our conversation and pulls out her Surface 3 to give me a visual. Here I'm seeing her digital prep notes for our meeting. Filled with conversation points, doodles and active links. It's amazing—a blend of the fast paced digital world combined with traditional note taking and drawings. I'm already thinking about how my teenage son could benefit from a tool like this. I mention to her that I'm already noticing that kids (even my younger one at age 10) is increasing his use of digital media. More and more of his class projects are being created and loaded onto USBs and brought to school for presentations. And this is reality. Brown said it was all about prepping the kids for the workforce where nearly everything is digital.
I had a chance to play around with the new Surface 3 and I'm impressed with what it can do. I'm currently planning our family vacation ALOHA! and sharing the file with other family members for input. I've made a list of places to see and things to do. I've created links to the sites within the document and yes… even my own personal doodles. Doodling comes in a form of a "Pen" that offers that natural drawing or note taking ability.
But what I also love is the flexibility of having a tablet as well as a laptop in one. It's great for screening videos, surfing the net  (and doodling) but it easily becomes a laptop  to get things done on-the-go with the easy attachable keyboard.
Now that summer is mere days away it's also a great time to consider this as perhaps a graduation gift for your high schooler? I always find that if parents are going to invest in new technology it's wise to give kids (and adults) time to explore and discover before the school year hits all over again. Summer is the perfect time to play around and doodle. The Surface 3 starts at $639. It has the ability to run desktop software, a USB port, and has an integrated kickstand.
UPDATE: If you're researching for back to school for September 2015, Microsoft has announced Windows 10 as a free upgrade to anyone running Windows 7, Windows 8.1 and Windows Phone 8.1 during the first year after launch. There are great new productivity and security features like Microsoft Edge and Cortana, coming this fall. Also Microsoft OFFICE FOR STUDENTS is free if a child or post-secondary student is enrolled in a district school board or individual school which has purchased Microsoft Office for use by its faculty and staff, they are eligible to access Office from their school through the OFFICE FOR STUDENTS program. Log on to Microsoft.ca/FreeOffice for more info an qualifications.