Back in the summer last fall I was introduced to a new app called VISR. It's an app designed to help families keep a respectful eye on their kids' social media usage. I know what you're thinking… there are lots of options out there. This is different and it's a way for parents to keep tabs and customize the level of tracking desired.
When I chat with my friends, we certainly all have different levels of comfort when it comes to what our kids share and how they share on social media. I see friends who promote publicly their kid's pages on Instagram. I see friends who absolutely outright refuse to even allow their kids to be on social media even as teens.
The truth is, and I've mentioned this a few times, kids will most likely find ways to get on… if they really want to. It's no longer a matter of yes and no, it's a matter of how and when. So, VISR comes into play in a mutually beneficial way for both parents and kids.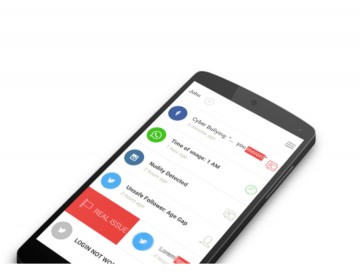 How does it work?  The app is downloaded onto the parent's mobile device. Permission is granted for monitoring access on your child's device. Parents don't actually see everything that is being posted however, key words or even photos would trigger red flags and send a notification to mom or dad's phone. The app indicates that there may be a concern and you can decide what actions to take. The first little while you can also customize the level of alerts. The app will ask you if you're comfortable with what was out there and then adjust itself so you're not receiving every little thing that could trigger off a red flag. The app will also give tips on how to speak with your kids about it.
The app is straight and simple to use as well as design. It's sensitive to parents needs and screening is private. No other person can see what's going on within VISR, they assured me of that. What's more of a concern is what our kids could potentially put "out there" in the public that is cause for alarm.
The app's artificial intelligence watches out for words that are possible triggers for such sensitive areas of bullying, depression, sexual exploitation, and sexting.
The app's coverage is impressive as well—Facebook, Instagram and Twitter are currently monitored. VISR is working on the ability to also cover Snapchat, Whatsapp, KIK, Secret, WII, Xbox and more.
Our kids are exposed to a lot these days and the decisions they make are sometimes challenging. This app can help us parents know when there is a problem.
I'm continuing to keep an eye on this important VISR app and it's interesting to see them roll out with schools also jumping on board to help their parent community learn and understand the landscape of social media.
If you're interested in more info or would like to be added to the beta testing list,  visit visr.co
The app will be launching soon on  iTunes App Store and Google Play.