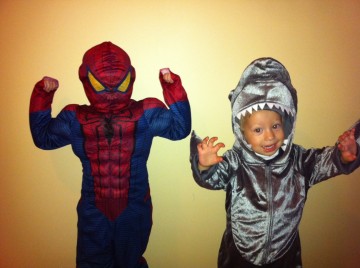 (This picture isn't from Halloween but rather from a Wednesday night in June)
My wife and I have a fairly new thing, we both get a night out a week. It's not every week but we do try to do a little something for us. I play in a dart league in Acton on Thursday nights and Charlene goes out for dinner with her sisters Wednesday nights. It's great, she gets a little time to catch up and I get a little more time with the kids and visa-versa.  So, with it being Wednesday I thought I'd take you through our normal routine.  Please let me know if this is a usual routine at your house, I'd love to know if I'm doing it right.
Our Wednesday Nights.
Dinner:
First I try to feed them dinner, which never goes according to plan. I make them spaghetti and meat sauce, they want cereal. I've referenced this before but times sure have changed from when I was a kid. Back in my day, the dinner table was like a battlefield; negotiations were never in my favour. Nowadays I'd say things like this to my kids, "Finish your chicken finger and you can have ice-cream." When I was a kid, it was "Ryan, finish your liver and you can have onions." The only time we had things like chicken fingers was on your birthday. If my kids had a birthday every time they ate chicken fingers they'd both be in their mid-90's by now.
Playtime
After dinner we play. Fortunately the warmer weather makes it a lot easier to do things outside. Don't get me wrong, I love playing in the snow with the boys but trying to keep a mitten on a 2 year old is like trying to keep a flopping Chinook salmon in a boat. We are also very fortunate to live on a street that has a park at the end of it. It made me realize how fortunate my kids are compared to me. The only thing I had at the end of the street was a newspaper box and an older gentleman that didn't like kids doing kids things. The ol' boy didn't have a lot of time for annoying things like, oh I don't know…kids laughing and playing.
Bathtime
This one isn't too bad and tends to go a lot smoother than dinner time. I just fill the tub up with toys and bubbles and everything sorts itself out. The only problem I tend to have is getting them out of the tub. Have you noticed that kids don't care how cold the water in the tub gets? They could just stay in there forever. I don't soak myself very often but when I do, if the temperature drops just a few degrees I'm out. Not them, if I left them at their own discretion I'd come back to find them ice-fishing.
Reading
Reading can be a bit tricky because they boys are at different levels.  My 2 ½ year old is sorting out pictures and colours, and my 4 ½ year old is at JK level; I'm sitting somewhere between grade 8 and 9.  In fact I like to switch things up a bit, right now the boys are reading me "Harold and the Purple Crayon." It's a pretty good little story, please don't' tell me how it ends. I'm at the part where Harold is on a beach and drawing himself a picnic with his crayon, brilliant idea!!
I'm hungry
Shortly after reading comes the inevitable "I'm hungry." Then shortly after that comes my inevitable response, "Well if you had eaten your spaghetti, meat sauce, and side order of chicken fingers you wouldn't be hungry." Shortly after that comes a blank stare and "Can I have Froot Loops?" We typically end up meeting somewhere in the middle after hours of negotiating and settle on Froot Loops.
Bedtime:
This one can be tough as well, and I blame the sun. My kids have it in there cute little heads that it's not bed time if it's still bright out. To them 8pm is a floating number. If there's a hint of daylight there is no way it could be bedtime. If anybody reading this could do something about that sun it would be greatly appreciated. No joke, last night I actually kissed my lil' guy Rory goodnight and I went to bed. Shortly after 8 (or so) they ask me to sleep with them. It's fun but it's tough to sneak away. Trying to climb out of a bed and not wake a toddler is like trying to sneak out of prison. You're nervous, you have a plan, but you know you're just one loud ankle or knee crack away from getting caught.
Daddytime:
Once the kids are down, I settle in with a nice warm glass of milk, and by milk I mean mixed drink.
Wish me luck, I'll be all over dinner, playtime, bath-time, snack-time, bedtime and daddy-time in t-minus 6 hours.