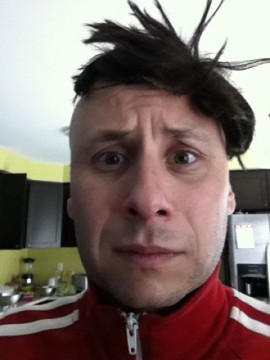 I have been a dad for almost 5 years; 2 little guys named Travis and Rory. I am also at that age where everybody I grew up with has had kids over the last 10 years or so. In that time I have done the baby registry thing, the classes, the ultrasound, the Braxton-Hicks, the birth, the diapers, the swaddling, lack of sleeping, the crawling, walking, teaching, talking, playing, wrestling, bike riding….whatever can be done as a dad, I've done it. That is why I am so shocked that I've never heard of this trend called THE DAD-CHELOR PARTY. Have you all heard of his before? It's kind of like a "last hurrah" before the baby is born. It's also known as a "man shower". I can't imagine a bunch of guys sitting around opening up presents like onsies and sippy cups. Even most of the women I talk to aren't really into wedding or baby showers. Then I saw this new trend called something else; yep I read the dadchelor party has also been referred to as a "diaper kegger". The penny dropped, it all started making sense to me; I figured it's guys getting together to drink beer and wear diapers right? Well no, unless you are at a slot machine and you don't want to give up that lucky one-arm bandit. From what I've read, it's a male bonding thing. Guys take out a dad-to-be and let him enjoy one last night before the baby comes.
I guess these parties come in all shapes and sizes. For some, it may be a round of golf followed by a round of beers; for others it may be a trip to Vegas. I can tell you what I did just before having a baby, absolutely nothing. That's right goose-egg, nada, zilch. Maybe if I had heard of this earlier, I would have done something with the boys, but this is all new to me. Fortunately I was 32 when my first was born so I kind of got all the partying, and late nights out of my system. I didn't feel a need to try and paint the town red just weeks before my baby paints my shirt with spit-up. In my defense of these dadchelor parties, I guess there are some future baby talks happening at them. Guys who have kids can part wisdom on to the newbies. I also read that sometimes to get access to the keg, you have to pay with diapers and wipes so it's somewhat baby related; it's not just a party. But even if it was a just a party, I can't get my head around it. Heck, if my wife wanted to cut-loose a few weeks before the big day I would totally understand. Although it's hard to cut loose when your 9 months pregnant.
Along the same lines of a dadchelor party, I've also found out about these vacations called 'babymoons', where parents take one last holiday before the minivan gets parked on the driveway. Call these getaways what you want, having a baby flips your life upside down and I think making time for yourself is a good thing. I can't think of a bigger game-changer than having a kid and I'll never judge anyone on what they do before they start the parenting game. BUT, I'll say this, if I had the chance to have a bender, either with the guys or my wife, I'd take it after having kids; maybe somewhere between the 5-10 year mark. The whole concept of making time to party after years of partying is kind of like having halftime before the game even starts. I say you get a few plays in, mix it up a little, and get some game time in before you hit the showers. Sorry "man-shower", sorry "dadchleor party", sorry "diaper-kegger". After a few years of parenting, you'll definitely want to hit the re-set button. Show me a parent with a couple kids, car payments, mortgage, soccer one night and dance the next, and I'll show you someone who deserves a round of golf or trip down south.