If your child is showing strong talent in something like sports, there's no shortage of coaches and more serious teams to foster that passion, right? I have a few friends who's kids are dynamos in figure skating and hockey. But what happens when you have child who's interested in performing arts? The local drama club is great but for the kids who are more serious about the arts, where do you turn to?
Paprika, an organization known for its professional mentorship of young artists announced that after 12 successful seasons, their Festival for young artists will expand and be hosted by different theatres across Toronto beginning Theatre Passe Muraille in April 2014. This is great news for kids who are artistically inclined and looking for positive and meaningful opportunities in the area of theatre arts.
Applications for the programs that lead up to the Festival in the Spring are now open until October 18th for kids and families who are interested in furthering their interests in theatre (Toronto). It's a great opportunity for kids to meet other artists and connect with others in the community. BTW, the program is also free of charge! Link to paprikafestival.com for details.
I had the opportunity to interview Dan Daley, incoming Artistic Producer of the Paprika Festival to discuss the importance of what this organization does for young budding artists.
What are some of the challenges that you've heard from parents about finding the right resources and opportunities for their teens who have strong interests in the arts?
-Drama class is a series of exercises, not artistic practice
-Less than half the drama class is interested in it
-Competition is so high for the school play that my child is excluded
-Extra curricular programs are either limited or non-existent
-There's limited funding for my child to go and see live theatre
-We don't live near a community theatre
How would a program like this benefit a teen interested in pursuing their passion in theatre arts? Why this program is so important.
We can site numerous examples of young people who have come through the Paprika Festival and are now working professionals in the arts in Canada. Leading arts institutions recommend the Paprika Festival as the place to gain valuable training from top artists and to connect with the broader arts community.
This program is important because it offers a positive experience for any young person with an interest in artistic expression. It offers a professional experience for any young person who is entering a performing arts school or moving into a performing arts career. It is free of charge, and it connects young people with some of the most inspiring artists in the country.
What is the age range recommended for the Paprika programs?
Our Festival is open to anyone under the age of 21. On average our participants are between 14 to 21 years of age. We find the exchange between individuals across all ages to be the most exciting part about Paprika.
We offer six programs that serve young people from the beginning artist to the advanced artist. Here is a quick overview of four out of the six programs.
Creators' Unit — An entry level experience in creating short performances in an ensemble setting with young people carrying a diversity of interests, led by two professional facilitators.
Project/Productions — A self-driven opportunity where your child forms a small company to stage an original play under the mentorship of a professional artist.
Resident Company — Expanding on the learning of the Creators' Unit, this ensemble works with a professional director to facilitate the creation of a community play in a local neighbourhood.
Playwright-In-Residence — Learn the craft of writing an original script under the mentorship of a professional artist and share in the process of new play development.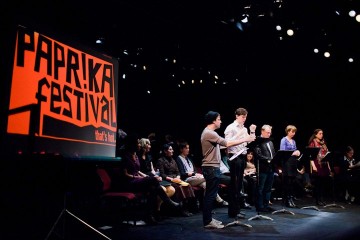 The programs prepare kids for the spring festival, what are their commitments from now until then?
It depends on which program they decide to enroll in. In every case they can expect to begin working together on a frequent basis as early as November. For example: Our Creators' Unit and Resident Company have a meeting once per week with our professional facilitators in the evening from six to nine. Our Playwrights-In-Residence only meet four times in the season with our artistic advisor, but will have had several meetings with their own mentors. Our Project/Production companies will meet on their own time to rehearse and will invite their mentor to attend. In every case, whether in secondary or post-secondary school, the time commitment is manageable.
Who are of some kids that have gone through the program and where are they now?
Rosamund Small: She spent three years as a young playwright with the Festival, gaining valuable mentorship from leading playwrights in Toronto. Her latest play is now being produced by a professional company in the Theatre Passe Muraille 2014 season. "I can't imagine that much of my work would have seen the light of day without this Festival.  I can draw a direct line from my experience with Paprika and my work being heard and produced in the professional world. The mentorships gave me professional and artistic role models, allowing me to explore the kind of art I love and yet still be independent, wholly responsible for my own process and results. The Festival also connected me with artists my own age, and those friendships and collaborations have lasted over many years and many projects," says Small.
"The mentorships gave me professional and artistic role models, allowing me to explore the kind of art I love and yet still be independent, wholly responsible for my own process and results." Rosamund Small
Mitchell Cushman: He wrote and directed original productions during his time at Paprika and has now forged an impressive career in the theatre scene including a directorial credit at the Royal Alexander Theatre in a Mirvish production, all before the age of 26.
Daniel Karasik: An accomplished writer with three published books showcasing his playwriting, short stories and poetry. Daniel is the artistic director of a popular independent theatre company and has received several accolades including the CBC Literary Award for Fiction.
Frank Cox O'Connell: A popular actor with credits on stage and screen. Frank often creates and performs in avant-garde projects in Toronto as well as national touring productions. He is currently a director in the Soulpepper Academy.
Sarah Miller-Garvin: A participant for several years at Paprika and later a member of the Festival executive, Sarah is a talented theatre creator, production manager and video artist. She has credits as an arts administrator and coordinator at the Fringe of Toronto and the Toronto Arts Council.
The Paprika Festival is Toronto's leading arts Festival for young artists under the age of 21. For more information on the programs and the Festival, visit paprikafestival.com