There is no doubt that teens are the hardest ones to buy for. Even more so if you've got boys. Sure it's easy enough to hand over a wad of cash but over the past few months my kid had a chance to check out some of the cool gear as well. Here's are some of his picks (and mine)…
TuckShopCo. Neighbourhood Toque ($35)- this is one of the hottest items for us city folks  in Toronto. It's city meets cottage country with  fun toques representing areas like Kensington, Annex, Yorkville, Queen West, Leaside, Summerhill, Distillery, Christie Pitts, and the list goes on. The Canadian brand has also expanded to include tees and sweatshirts. As well as other items including more luxurious cashmere (okay, that's for me). www.tuckshopco.com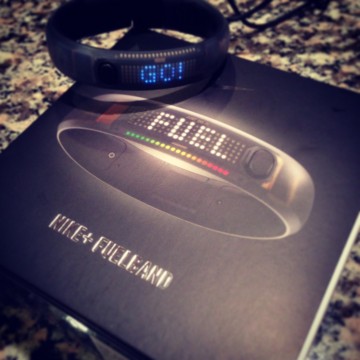 Nike+ Fuel Band ($149)- my son was thrilled when he tested the Nike Fuelband. It's been fun to see him monitor his sports activities and compete against his friends. The Fuelband is worn like a watch and monitors all your movements on this device.  He connects it to our laptop at the end of the day  that helps him keep  up to date with what his friends are doing as well. It's been a great motivator to get him moving more than he would without it!  It's great for any age actually. The newer version Nike+ FuelBand SE is water resistant (but not for submersing in water for swimming – which is the only downside as my son is in competitive swimming) and also allows you connect on your smartphone to give you real-time feedback.
iPhone 5c (16G is $599 without plan)- you can brighten up any holiday with the fun pops of colour on the latest iPhone 5C. It comes with all the features that you know the teens love including a 8 megapixel iSight camera for the brighter and sharper images to download on their social media networks like SnapChat and Instagram. It also comes with and an all new FaceTime HD camera and a better battery life. Now there's no excuse not to keep in contact with you.  And the bright colours just pop with personality…just like our teens! www.apple.com 
Chris Hadfield's Astronaut's Guide To Life On Earth ($32 list price)- Is there anything cooler than space?  Chris Hadfield decided to become an astronaut after watching the Apollo moon landing with his family when he was just nine years old. Back then, it was impossible for a Canadian to astronauts. But with determination he was able to fulfill his lifelong dream and even made David Bowie proud! Hadfield's recent biography/memoir that will hopefully inspire not just teens, but all of us, to dream bigger — to remind us that "the sky is NOT the limit." Available as a hard cover or if your teen doesn't have an eReader yet, here's a thought… a great gift idea to download onto a Kobo as a gift that's ready to go!
Slussen by Urbanears ($20)- this is a neat little accessory to channel any inner DJ. This little adapter can just hang off a key chain and taken anywhere. Download the app and plug in the Slussen to an iPhone, iPod or another iOS device. Why your teen will love this? With the app,  it will give you the ability to play DJ with functions like an equalizer, scratch, and crossfader.  You connect your headphones and sound system into the adapter and mix up your own tracks. Check out the video at their website www.urbanears.com