While at the cottage last week, out of the blue, Oliver announced, "I'm going to make you breakfast in bed tomorrow morning."
I was all, "Ummm…."
"Don't worry, I know what to do. How many eggs would you like, do you think?"
"Ummm… darling? Do you… are… how are you…?!" And then I decided to just let things be. "Okay. Um, two, please. And what a lovely thought, Oliver. Thank you!"
"You're welcome," he breathed with a smile. He's at this amazing, tender age of 9.5, where he just love, Love, LOVES me, and wants to hug and kiss me all the time, and he's the most agreeable little person ever, and I adore him right back.
In the morning, they came to knock us up with cups and plates in their hands. Madame walked in ahead of him, apologising for not knowing how the coffee maker works, adding, "But water is good for you, too."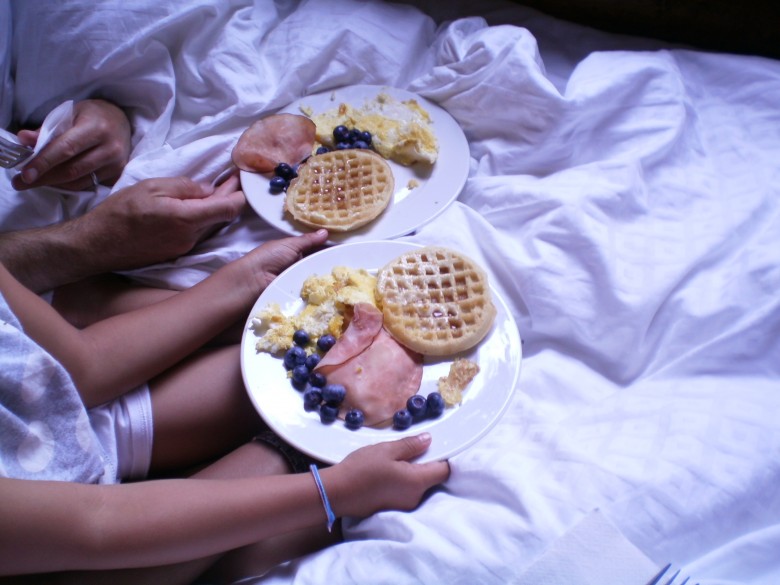 My eyes were bright with tears as such beauty on a plate. The waffles were ice cold, congealed with unmelted butter (I think they must have made them at the start of the morning's ordeal) and the eggs were a tad wet in the middle for my liking, but it was the best breakfast I ever had, and Martin and I both cleaned our plates.
I read an article in The Huffington Post the other day, noting the sweet spot of the motherhood journey (or one of them), where in your kids are still small enough to want to be around you, and they still need lots from you, but that feeling of being able to exhale is here. I tell you, I feel a shift happening. I'm done with diapers and strollers and forcing naps and carrying sippy-cups and a plethora of snacks everywhere I go. I have my wallet, and one little hand in each of mine, and I can go anywhere now. I don't have to have my eyes trained on them for every single second, worried someone will fall down the stairs, or lick the caps of poisonous cleaning things from under the sink. They don't drive me as crazy as they used to. Not any more. (Or, not yet.)
And best of all? I'm on my way to creating perfect minions, I think. Next up: I'll impart my wisdom on all things vacuuming to my man-child, and I'll hand the martini shaker to the small one. She ought to use her never-ever-still skills for good versus evil.
Got any minions on your hands yet? What can they do for themselves? Better yet, what can they do for you?!