"Mom…why are you trying to look so pretty?"
This from my ten year-old daughter today.
There was nothing in particular going on this morning, other than my second-day hair. I did my hair up, as I usually do every second day. I call these updos (from sock buns to French braids to chignons) second-day hair, but only partly because I do it on alternate days. Mostly though, I call it second-day hair because it's my second day wearing it (the hair) without washing. (Oh come on. You know you do it too.)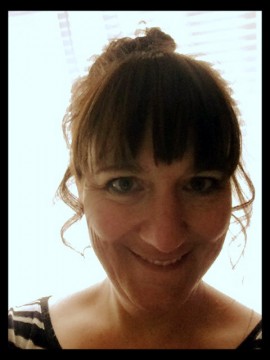 So back to this morning. I brushed, pony-tailed, back-combed and pinned my locks because today was – you know – the second day. Add my usual minimalist makeup and a pair of earrings and I'm dashing down the stairs to grab a travel mug full of hot coffee and head to work.
But then her question stopped me in my tracks.
Why was I trying to look so pretty? Was I trying to look pretty? Should I say thank you? Was it even a compliment? (She did specify I was trying, after all…there was no mention of me succeeding at looking pretty!)
But a question deserves a reply and so I gave her one.
"I always try to look pretty for work, sweetheart." Oh, now that didn't sound quite right.
"I mean; I always try to look my best." Yeah, that didn't feel great either.
And my inner dialogue proceeded something like this: you're raising girls here, lady. Don't sell them the beauty myth right in their own home! You tell them you need to look pretty for work, and that reinforces the ideas they're already overexposed to: that their worth is directly correlated to their appearance and attractiveness.
Her question stopped me in my tracks.
Damn. How to recover this? By this point, my girl was out of the car and running to catch the bus, attention span long distracted by issues of far greater importance than her mom's beauty (or lack thereof). Still, I just couldn't shake the feeling that the exchange with my daughter hadn't gone quite right, and I continued to replay the scene in my mind for a while. 

Q: "Mom…why are you trying to look so pretty?"
A: "I just feel better when I look better." No.
A: "I wear makeup and do my hair to look professional." Better, but still not sitting right.
A: "How you look isn't what matters most, but I think it's fun to do my hair and put on makeup." Definitely not.
And it occurred to me then that I couldn't answer the question in a way that satisfied me because I don't actually know the answer. I do wear makeup and style my hair and put on jewelry and generally try to dress well for work. And if I'm going out to a movie or shopping or dinner in a restaurant I will also put a little effort into looking less like I just rolled out of bed or off the couch.
But why?
I guess I do it just because it's what's done, you know? It's how the world works. I mean; yes. I do feel better about myself when I think I look good. So nice hair and makeup and clothes that fit well…those things all give me a little boost. But should they? Is it necessary? Should this really be the way the world works?
Aaarrrggh!
Forget the birds and the bees. "Why are you trying to look pretty?" These are the tough parenting questions that will drive me crazy.