As a mom, I recognize trouble when it walks in too, so Taylor Swift and I have some stuff in common. We both love high waisted shorts aka mom shorts. Her friends refer to her as the patron saint of cats and my Instagram account is 25% feline. I know my kid can be entertained by paper airplanes for hours, and Taylor entertained the entire audience with some giant ones for a whole song.
She would make a great mom.
That's why I wasn't surprised to see some valuable parenting lessons in action at her concert this weekend. There were definitely things to be learned from Taylor and her fans.
1. Incentives can improve behaviour
Taylor promised a special guest might come out if we acted really excited.  I promise my child one special treat if he behaves at the grocery store (and he usually asks for a family pack of chocolate bars because he's strategic like that).  Sometimes you need a special treat in your arsenal to get stuff done.
2. You need friends that will show up in short notice
Taylor had Nico & Vinz show up to help her out at her concert. When I was sick, my friend Nina showed up on short notice, took my son for a play date and brought him home with dinner. She's not an international pop star, but she showed up when I needed her with a special guest appearance. As a parent, you need people who will show up for you.
3. Dance like nobody is watching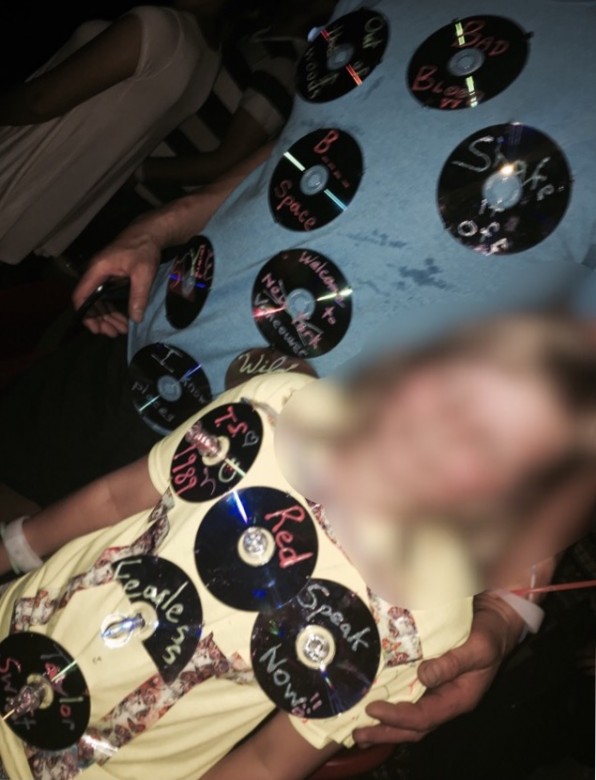 I watched a daddy-daughter duo in front of me in the most awesome homemade shirts. He broke out the coolest dad dance moves and she was so proud her dad was dancing with her. Dad of the year, hands down. Watching them made me want to be a better mom and have more fun with it. Dance like nobody's watching. There probably isn't a parenting writer sitting behind you.
4. Soak it up
Taylor is a megastar and plays big shows all the time. She still took the time to soak it all up, the magic of it all. As a parent, I spend a lot of time soaking it all up, but it's usually just spilled milk on the rug. I need to take more time to soak up the rest of it, just like Taylor did. Parenting is magical, so soak it up.
I didn't expect to learn anything about parenting that night. I didn't even bring my own kid! As many things Taylor and I have in common (mom shorts, love of cats, airplane construction), I learned there is one distinct way we are different. She's got a blank space, I apparently don't.