Our kids are growing up in a digital world and, whether we like it or not, it's become our society's daily norm. Kids have increasing access to mobile devices, tablets and laptops. Sadly, this brings with it a concern about cyberbullying. Let's face it, it's not easy these days being a kid. It's a challenge when hurtful comments and images go viral online and the at-school teasing becomes something that infiltrates every moment of your day.
A new national study conducted by Telus Wise, in partnership with PREVNet and MediaSmarts, offers more insight into the attitudes and experiences of youth who witness cyberbullying and the factors that influence whether or not they would intervene. In this national survey of 800 kids between the ages of 12 and 18 (based on their experiences in the previous 4 weeks) this past summer here are some interesting and sometimes very surprising findings…
45% of boys were more likely than girls to experience electronic bullying vs 38% of girls
42% of youth said they were cyberbullied, and 60% said they had witnessed others being cyberbullied.
71% of youth who saw cyberbullying said they did something to intervene at least once.
While the study found youth are indeed motivated to intervene, it also noted that they would be more likely to do so with better support from adults. Kids believe that telling a trusted adult (74%) and talking about how to handle it with parents (73%) were important intervention strategies.
But according to the study, while most youth believe something can be done in response to cyberbulling, they're not convinced that their concerns will be taken seriously or that adults will be helpful. When they were asked why they don't intervene when witnessing cyberbullying, 33% said they do not believe adults give advice that helps, and 43% said they do not believe that talking to parents and teachers will change anything. They will often turn to peers to talk about how to handle situations.
Gulp! Now that's a wake-up call for us parents and teachers to educated ourselves about cyberbullying.
As parents, we often don't see everything that's happening in the electronic world our kids participate in.  Like you, I want to give my kids some sense of ownership and space but at the same time we all recognize that cyberbullying is still a significant problem and is happening to far too many youth. So, how do we empower our kids to recognize and respond to cyberbullying as well as become more active ourselves in addressing the issue and remove the perceived barriers?
It's a confusing world for us and often difficult to differentiate what's deemed as bullying online. If you take a look at any youth's social media pages and scroll through comments, they can sometimes be alarming. How can you tell if something is serious or not?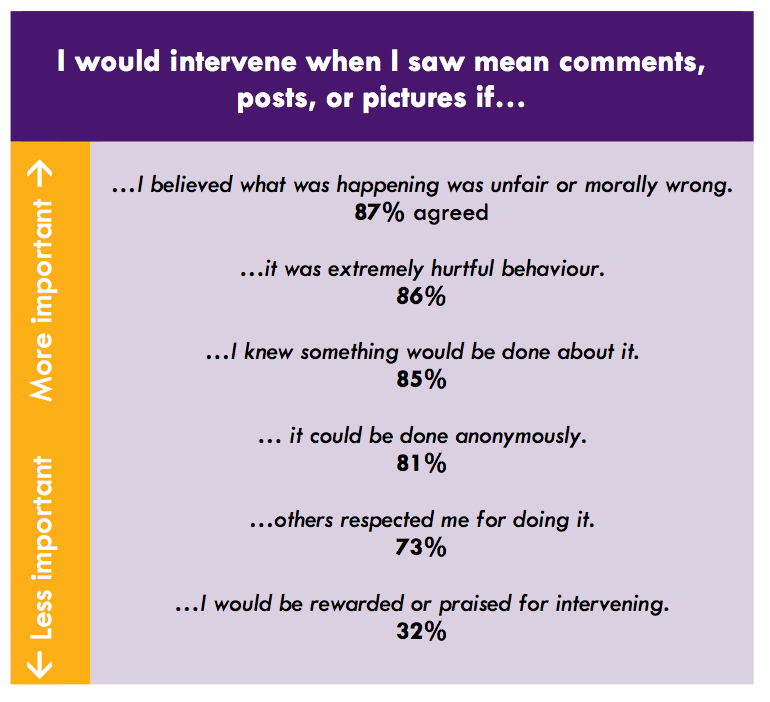 So, what do we do? It's important for parents to create a healthy and respectful relationship where our kids feel safe in discussing online safety and cyberbulling with us. It's important to talk about a concerning situation but we need to continually monitor and check in with them to ensure that the problem has stopped. We also need to send a strong message to our kids that we are concerned, just like them, and will work together to find an effective solution.
By keeping open lines of communications help. But I know as parents, we don't necessarily always feel confident or have the right answers so turning to the right resources shows our kids that we are being proactive and that it's our responsibility to be informed and educated. For tweens, even role playing methods of "how would you feel that happened to you?" is valuable perspective and worth a family discussion. In our family we try to teach our kids to stop and think before reacting. Does something just not feel right? Then, let's talk about it. Feel like you can't handle something on your own? It's okay to ask for help. I'm definitely not one to presume that I know everything but what I don't know…I will seek out the information.
Cyberbullying impacts not just kids but adults as well but increasing our awareness and understanding the importance of our roles, whether it be a witness, victim, bully or support and what to do is vital in helping everyone respond effectively.  If you're interested in finding out more about the latest study and get tips on how to handle cyberbullying, Telus Wise is a unique program that supports Canadian families with educational tools and resources around Internet and Smartphone safety and it's free to anyone.