As consumers of technology we are used to having information curated for us based on our preferences and browsing history. This ensures the most relevant products and articles are made available. My child is a curator of sorts himself. Normally, he specializes in the curation of embarrassing experiences.
Once upon a time, someone bought his father a bottle of Playboy brand cologne. My son really enjoys the smell of it as well as the act of spraying it on himself to pretend to be a grown up. This is the story I wish I had time to relay to the people in the elevator with us when he asked, "Mommy, would you please buy me Playboy?" All there was time for was the shocked and judgmental expressions of complete strangers who thought I purchase pornography for my child. I wanted the floor to swallow me up, or to just disappear into the shadows.
On another day, the shadows were a cause for embarrassment. My hair and nails grow very quickly. This keeps my favourite aesthetician rather busy removing unwanted body hair so I look more mommy than Groucho Marx.  Apparently I waited just a little bit too long between appointments when my son marvelled aloud, "I've noticed you are trying to grow a mustache!"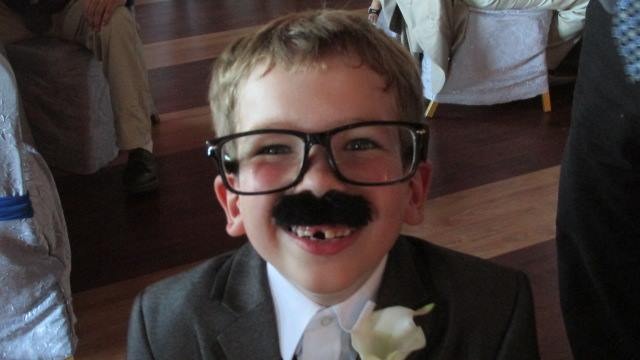 Photo credit Les Seaweed
I was humiliated. I mean, my father had a mustache historically. This tidbit brings me to the next occasion upon which my darling little boy threw me completely under the bus. We were out for lunch with my beloved father when we decided to mark the occasion with a goofy selfie. We were all smiles but had difficulty fitting completely in the frame. "Let's get closer and pretend we like each other!" he suggested helpfully. My dad chuckled, probably wondering just what I say when he isn't around, and we took a great family photo.
A more formal family photo was the most recent thing my son curated. Instead of mortifying me, it warmed my heart.  One day I found that he had gone through the photos I hadn't had the opportunity to hang yet. He pulled out a photo of the two of us, retrieved some tape and affixed it to the wall between his room and the bathroom. I thought he was trying to decorate.
Family Photo By Shelley Welch Photography
I didn't think much of it until he returned from vacation to find it had fallen from the wall. He was crying and very upset. Apparently he had hung the photo there so that he could look at the photo from his bed and see me when he's trying to sleep.
With heartwarming moments like that, it's easy to forgive him for making me want to join the witness relocation program with his embarrassing public antics. Thanks to his love, I don't really want to disappear, even if my mustache makes for a perfect disguise.