I have daughters.
I have never raised a boy. I half feared it and half envied it.
I recently spent a week with one of my favourite 9 year old artists from the city. This is the first time a boy has come to art camp.
Here is what I learned-
1. It is actually possible to never sit still.
2. Every time I went into his room to wake him in the morning he was in a different position- legs on bed, torso on floor, head on bed, legs on floor, entire body on floor, backwards in bed.
3. It is possible to never stop talking or asking questions. This when he ran beside me, swam beside me, at every meal and in every moment.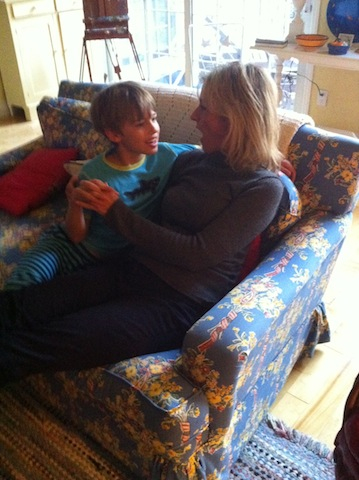 4. He is darling in a way that little girls aren't.
5. He is imaginative in a BIG world way.
6. He wants all the words on everything.
7. He fires information and thoughts at me like bullets, in topics ranging from "Nancy did you know the compostion of bubbles? to "The grey wolf regurgitates its food to feed its young. If the mom forgets to do this the babies will rub her neck to encourage her to barf" or "Nancy, I just tried an experiment and I want to tell you about it" "Nancy, what are we going to do next. And then next after that? And then after that?"
8. He sits on his chair at every meal like a vertical angler- perched on a stake in the middle of the ocean.
9. He approaches sitting on a couch or chair in the living room like he is mounting a box horse in a gymnastics competition. He runs, hops and catapults himself onto it. He lands in a novel way each time.
10. I have only one comment for those moms with boys- you have an unfair advantage at the gym because your life is like a non stop session with a trainer.
He turned to me at one point and said  with a big smile, " Nancy, I find you tell me all the time you love me."
"Yes, because you are so darn loveable."