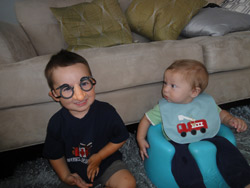 First off I'd like to say that I am very happy to be part of the Canaccord Genuity Great Camp Adventure on Saturday, September 28th in support of SickKids.  This is a terrific event, and a wonderful idea. My family and I, along with Q107's evening host Dominik Diamond and his family, will join many other families in a day-long adventure walk. This is like nothing else I've been a part of – it will feature 20 kilometers of camp adventures. There is something for everyone; it's the perfect charity event for the whole family. I've included the links, you can just click on it, or you can join the Q107 team (Team Q).
This is a very important event to me personally because my wife and I had to visit Sick Kids when my youngest by boy Rory was a few months old.  We consider ourselves very fortunate that everything worked out, but that's not the case for many families. It's events like this that allows Sick Kids to continue to be Canada's most research-intensive hospital and the largest centre dedicated to improving children's health.
In anticipation of the big 'Great Camp Adventure', they had a little 'warm-up' get together this past Saturday. It was a blast; we played games, ate snacks, and participated in a mini-walk. The experience has made me respect everybody who participates in marathons. I'm in horrible shape; I couldn't do 10 push-ups if you spotted me 9. Yet people dedicate themselves to finishing a marathon. I am envious. I kid you not, I just walked 3 kms on Saturday and thought I pulled a hammy and required shoulder surgery for some reason. Back to the point at hand, on the way back to home-camp, I got into a conversation with a father named Gav who was participating with a couple of his kids. Just as we were about to say goodbye, his son turned to him and asked "Dad, who is Bernie Kosar?" We both looked at each other and fully appreciated the randomness of his question. Of all the people in the world for a kid to ask about, Bernie Kosar would not be top of mind. Bernie played Quarter-Back for the Cleveland Browns from 1985 to 1993, then finished up his career with the Dallas Cowboys and the Miami Dolphins. Not exactly in a 9 years old wheel-house I imagine. I found it hilarious, in fact, I thought maybe there was a Bernie Kosar on a kids shows or something; that was not the case. He was asking about the guy who played football in Cleveland that retired 11 years before he was even born.
Shortly after that random question, I thought it would be great to blog about some of the funny things my kids have said to me. Ya know what? We should turn this into a TV show, it's simple, you just ask kids random questions and listen to their responses. I think Art Linkletter or Bill Cosby would be a great host.  Anyways, once again, I gotta get back to my point, funny things kids say.
Here is a small list of some of the funny things my kids have said to me over the years:
On me being bald – "Does your hair grow on the inside?"
The LCBO – "They sell a lot of juice for mommy here."
Reading – "Daddy, you don't read as well as my teacher."
My Belly – "Dad, do you have a baby in there like Mommy?" (classic)
Seeing a guy on a unicycle – "Why is his bike broken?"
When I tried to explain that our cat has  'gone away' for a long time – "Is he in the bathroom?"
When he figured out I'm on the radio – "Daddy, how do you get in the radio everyday?"
& just last night…
Me – Goodnight buddy
Travis – Goodnight Sweetheart
If you can add any, I'd love to give them a read; I have a blast reading your comments.
Thanks to everyone who is reading Two Lads and a Dad, it really is fun to blog.