My older son just turned 16 and all he wants to do is get behind the wheel. And while he might be ready for it, I certainly am not. I half jokingly remind him that driving a car is not like playing Forza on his Xbox as I internally cringe at the idea of him behind the wheel. Don't get me wrong, I am sure he'll be a great driver—but does it have to be now?!
Like most parents at this stage we're reminding him of the huge responsibility of getting behind the wheel. He's eager but living in the city poses many additional challenges for young drivers today. Aside from what we all need to know as we get behind the wheel, we also need to be aware of cabs, couriers, distracted drivers, streetcars and road rage, even on residential streets.
We're starting from the beginning now, but how do you offer solid driving advice, build confidence while balancing out the huge responsibility of being a driver?
We all understand the distractions are far greater today than ever before. It's mind-boggling that even though we all understand the risks of having distractions like mobile devices or even the radio playing loudly, people still choose to drive with them. It's important to remember that your kids are watching you and how you drive—so maybe turn down the T-Swift and show your kids what it means to really focus on the road. I'm more aware than ever before of our own driving habits and reactions on the road now that my son is ready to get behind the wheel.
And with a driver's license comes the age old dream of one day having your own car and my son has definitely been bitten by that bug. With that in mind, we did our annual visit to the Canadian International Auto Show this past weekend to check out the latest vehicles. Ford Canada had an area set up that included a row of racing video games. I immediately noticed a sign that said, "Feel how you should NEVER feel behind the wheel."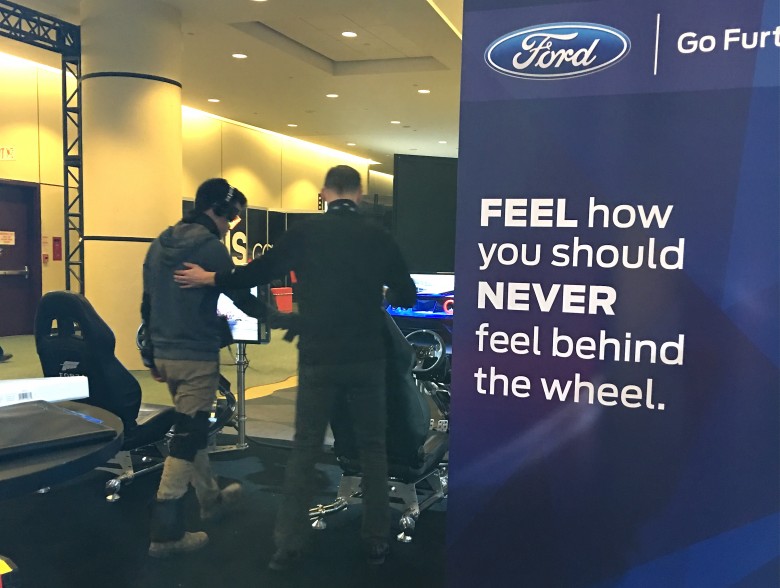 They explained that they've developed this program mostly geared at teens to gives them an opportunity to experience what it's like to be an impaired driver. My son was put into a "drugged driving suit" that mimics the sensations of someone under the influence. Not knowing what it feels like, he was curious and agreed to get suited up.
This is just a taste of the Ford Driving Skills For Life program that started in 2003 that focuses on young drivers. "As you're aware, there's a higher number of accidents among teens and Ford is all about safety and we wanted to target this age group with hands-on training," said Dave Drimmie, Lead Instructor, Ford Driving Skills for Life. "The program not only gives new drivers training and an interesting simulated experience but hopefully leads to making proper decisions behind the wheel."
The actual program normally takes place in a large wide-open parking lot with fully qualified instructors and newly licensed drivers in a three hour session. They put them through different exercises including car control as well as hot button topics relative to drivers today like distracted driving and impairment.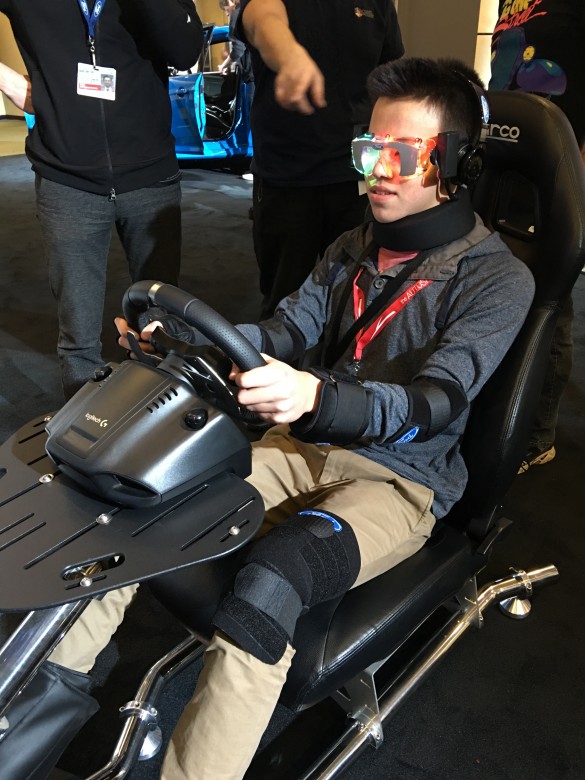 Ford worked with researchers and scientists to develop really cool training tools like the "drugged driving suit" that actually mimics the effects of drugs on the body. In the program, they have the opportunity to drive in a controlled environment. It's a dramatic way to show teens the levels of impairment and what could happen.
The suits show how being impaired can affect your motor skills, reaction times and vision. I noticed my son shaking in the suit which turned out to be a device that mimics tremors that is one of the potential side effects of drug use.
My son and I had an interesting conversation after his experience. He definitely had to try harder to stay focused on his driving and now understands what it feels like not be fully alert. Something he won't soon forget.
So, this is the start of our journey of our teen learning to drive. He's got his G1 now so he's eager to get going and we're researching classes for the coming months. Oh boy!
What advice would you give a new driver?