After having baby I had that desire to spend time with other new moms. I had met a few moms at the hospital pre-natal classes and we became friends. We would meet at the local coffee shop or each other's homes on a weekly basis. They were my sanity savers!
There are great mommy networking groups, big and small, across the country that offer moms that "get out of jail the house" time. Some even offer on-site babysitting services as well as coffee to moms who drop in. I spoke with my friend Jennifer who is very involved in a volunteer-driven mommy network in the hood. They have a strong membership of moms who enjoy being in the company of others at the same stage in life. The group often brings in guest speakers for quick, informal and fun sessions. I often hear about how valuable this resource is especially for new moms who try to navigate their way through everyday life with babies and toddlers.
Lots of discussions happen and often this come up….
"Am I doing the right thing?"
"Am I the only one who thinks of ….?"
One topic that comes to mind is how do we  minimize our family's exposure to everyday chemicals? After having a baby, I personally felt a heightened awareness of what's in our home from cleaning products to baby wipes. All of the sudden, we're more conscious and we want to do everything in our power to do the best we can for our families, right?
Mommy groups, big and small, are a great resource for information and sharing experiences. I recently noticed a unique program created by Seventh Generation in partnership with Healthy Child Healthy World — one of the top non-profit voices in children's environmental health. They've heard from moms asking for more access to  information concerning everyday household products so they've created a Healthy Baby Home Party.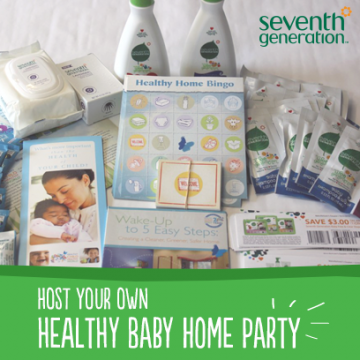 This concept is a fun way for new moms to host a social in the comforts of their own home with family and  friends. It's kind of like social that everyone can learn something from. The host is provided with a free Healthy Baby Home Party kit with everything needed to plan a party including samples, educational material, giveaways and party planning tools! And it's free! You'll just have to provide the coffee and cookies!
If you're interested, you can apply to host a Healthy Baby Home Party. Simply  fill out a quick survey here. And if you're selected, Seventh Generation will send you a kit so you can get started.
Spread the word or invite friends to participate by sharing the link!
For more details, visit healthybabyhomeparty.com. Limited party kits available.
Do you belong to a mom's group or do you meet socially with other moms? What are some fun or interesting things have you done with them? 
About Seventh Generation:
Seventh Generation is the nation's leading brand of household and personal care products that help protect human health and the environment.  Established in 1988, the Burlington, Vermont based company remains an independent, privately-held company distributing products to natural food stores, supermarkets, mass merchants, and online retailers across the United States and Canada.
"We believe our products are healthy solutions for the air, surfaces, fabrics, pets and people within your home–and for the community and environment outside of it. As a pioneer in corporate responsibility, we want our products to make a difference—from their development through to their production, purchase, use, and disposal.  We are always evaluating how to reduce their environmental impact, increase performance and safety, and create a more sustainable supply chain. We believe it is our responsibility to set a course for a more mindful way of doing business, where companies act as partners with other stakeholders to create a brighter future for the whole planet."
Web link: seventhgeneration.com 
 This post is not sponsored, nor was I compensated. All opinions expressed are my own, as always.