It's hard sometimes, to read the news on any given day and not roll your eyes at the completely idiotic things some celebrities say.
On today's list, the gay fashion icons Domenico Dolce and Stefano Gabanna (of Dolce & Gabanna).
The duo were quoted in an interview saying some pretty harsh things against non-traditional families:
"The only family is the traditional ones. No chemical offsprings and rented uterus: life has a natural flow; there are things that should not be changed… I call children of chemistry, synthetic children. Uteri [for] rent, semen chosen from a catalog."
So, let's quickly run down a list of all the people—both straight and gay—that Dolce and Gabanna have effectively alienated with their statement: couples who use surrogates, IVF, sperm or egg donors and couples who adopt.
We shouldn't be surprised, seeing as how the design duo has previously spoken out against gay marriage. In 2006, Gabbana reportedly said, "I am opposed to the idea of a child growing up with two gay parents. A child needs a mother and a father. I could not imagine my childhood without my mother. I also believe that it is cruel to take a baby away from its mother"
Social media has reacted as one would expect, with outrage and disgust. The hashtag #boycotdolceandgabbana began to show up on Twitter and celebrities also started to voice their opinions.
On Instagram, Elton John eloquently explained why he would never again wear the designer:
"How dare you refer to my beautiful children as 'synthetic'. And shame on you for wagging your judgemental little fingers at IVF – a miracle that has allowed legions of loving people, both straight and gay, to fulfil their dream of having children. Your archaic thinking is out of step with the times, just like your fashions. I shall never wear Dolce and Gabbana ever again. #BoycottDolceGabbana"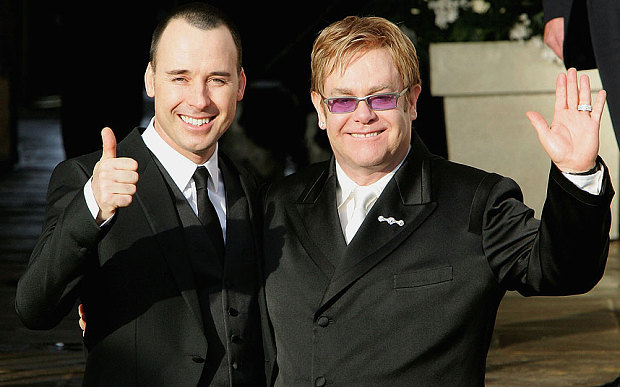 Celebrities took to Twitter to show their support for Elton John, #BoycottDolceGabbana and non-traditional families everywhere.
Ryan Murphy, creator of Glee took aim the designers' clothes and politics:
These designers horrifying views are never in fashion. Their clothes are as ugly as their hate. #BoycottDolceGabbana

— Ryan Murphy (@MrRPMurphy) March 15, 2015
Victoria Beckham showed her support for Elton John and IVF children everywhere:
Sending love to Elton David Zachary Elijah & all the beautiful IVF babies x vb

— Victoria Beckham (@victoriabeckham) March 16, 2015

Courtney Love Cobain let a lighter speak for her:
Just round up all my Dolce & Gabbana pieces, I want to burn them. I'm just beyond words and emotions. Boycott senseless bigotry! #boycottD&G

— Courtney Love Cobain (@Courtney) March 15, 2015
A very astute Ricky Martin tells the designers' to join the rest of us in the 21st century:
.@dolcegabbana ur voices R 2powerfull 2B spreading so much h8 http://t.co/30Oe2hcxNt Wake up,Its 2015 Luv urselves guys #boycottdolcegabbana

— Ricky Martin (@ricky_martin) March 15, 2015
The designers' responded to the boycott with a joint statement that was more excuse than apology.
"We talked about our way of seeing reality, but it was never our intention to judge other people's choices," said Gabbana. "We do believe in freedom and love."
Dolce added, "I am very well aware of the fact that there are other types of families and they are as legitimate as the one I've known… I was talking about my personal view, without judging other people's choices and decisions."
Chemical offsprings. Rented uterus. Synthetic children. These statements seem pretty judgemental to me.
Sadly, it's not likely that #BoycottDolceGabbana will make them change their tune. But hopefully it will at least teach them to keep their mouths shut. As Ricky Martin said, powerful people need to keep in mind that their words hold weight with the public.
And as every mom ever has said, if you have nothing nice to say, don't say anything at all, Dolce and Gabanna.