In my desk drawer I have cue cards for the last 4 years with my goals and intentions written on them. If it sounds goofy, let me tell you that stuff I write down always comes to fruition – not always in the year I hope– but eventually.
Every year around Labour Day we have a goal setting dinner. My children roll their eyes, I give them bare bottom spankings with the wooden spoon and then we get on with it. No goals are too small or too big.
Once when one child wanted something very badly around May, long after we had written our goals –  we talked about critical path and how to get there and then I said get in on that peice of paper. And she did. And it came to be. Is it magic or coincidence? I have no idea but it has never hurt.
Last night we had a JOROMAMA dinner(Jo blank is the last name of my children. Ro blank the last name of the other children and Ma blank the maiden names of both of us moms) – the 6 of us- now hard to get a night together- and we did our new school year goals. If we want, we often read last years out loud and see how we did. Sassypants said at one point "Mom, why is my card so mangled?" I couldn't figure out why. And then I remembered. Last Spring we were on a hike and her nose was running. She asked for a kleenex and neither of us had one. In her jacket was her card with her goals (hey naysayers, she was carrying them with her). When she stopped sniffling, I asked whether she found a kleenex. She smiled and said "No, I found my goals".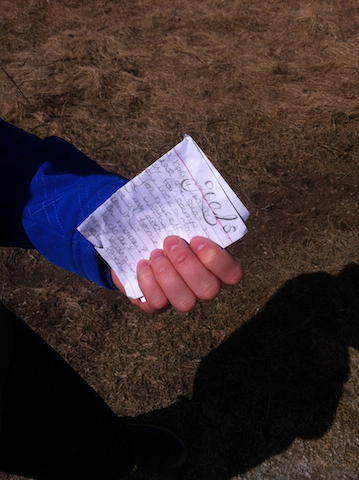 Yes, she blew her nose on her goals. God, I love her.
Yes, I kept them.**
I find this both hysterical and wonderful. You of the antiseptic nation may not. So be it.
**And above is the picture just after the nose blowing. Because, lets face it, a little irreverence can be gorgeous.