Because there weren't enough ways to feel completely inferior as a parent, someone had to go and invent the Elf on the Shelf.
I already fail at Halloween, apparently, because I don't turn my house into the set of a horror movie for the entire month of October. And now, thanks to some overzealously nostalgic Georgia housewife and her elf-enabling adult daughter, I have to stay up late not just on Christmas Eve, but EVERY FREAKING NIGHT FOR A MONTH just to move this damn elf around.
Because god forbid I should forget.
My youngest is still a believer in Santa and all things Elf, but at ten I can't see that lasting much past this season (I can hope, right?), so the pressure is really on. She's old enough to remember to search out that little red bugger every morning, and wise enough not to fall for the "oh he just really likes that spot, honey, so he came back again today" line. So the elf has to move. And he has to move daily.
Did I mention that I still have to GO TO WORK EVERY DAY? And that staying up late and/or waking up extra early to give the elf a boot to a different perch isn't exactly my idea of a fun time. And then there's the fact that this little bugger, having been made on the cheap in China, isn't actually posable in any meaningful way, and pretty much falls off of any actual shelf I try to place him on. As a result, my elf has been found stuffed inside vases or wedged into drawer-pulls. He's fond of the recumbent position, because even if I do manage to wrangle him into a seated position, the slightest eddy of air will topple him over (and everyone knows you can't touch the elf to right him because then HE WILL LOSE HIS MAGIC GLITTER DUST. *clutches pearls*)
But that's just the most basic and sucky elf-arranging. If you really want to excel at the Elf on the Shelf (and if you actually do, I urge you to reconsider your priorities) you need to get really creative and go all MacGyver on that sucker. Here are some pictures of the ridiculousness that you too can achieve with an Elf, a glue gun, glitter, marshmallows, cotton balls, Barbies, cheerios, magnets, glitter and WAY TOO MUCH TIME:
Of course there are also plenty of silly, edgy and even a few downright pornographic elf photos out there for your viewing pleasure:
Personally, I like this elf:
But the Christmas book that I want this year is this: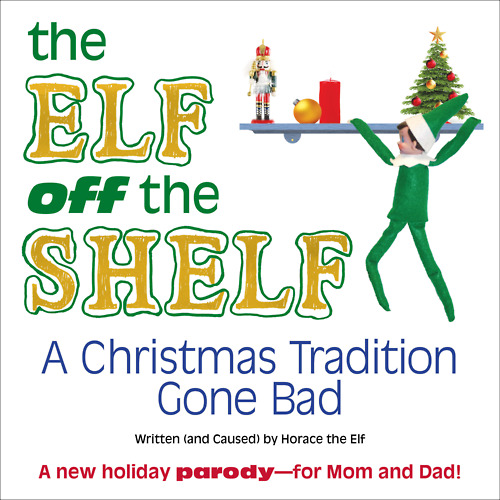 It's "the unauthorized (and hilarious) tale of one disgruntled little helper with a gift for making mischief." Sounds like my kinda elf. Here's a picture of Horace, looking about how I felt after last year's Christmas party:
Here's to a month full of fresh #elfontheshelffails. Break out the egg nog, it's elf season!