Do you buy a year end gift for your child(ren)'s teacher(s)?
I do.
Even though June is a heavy month, cash-output wise, I do still make sure to buy a little something for people who spend the majority of their weekdays with my children.
The people whose care I entrust my children to. The people who teach them everyday.
Yes –  a thank you card would suffice (and the children do make and sign their own cards for the teachers) but I like to show my appreciation with a small, tangible token.
This year it's wine. They each get a bottle of wine and a 25oz wine glass stuffed with chocolate.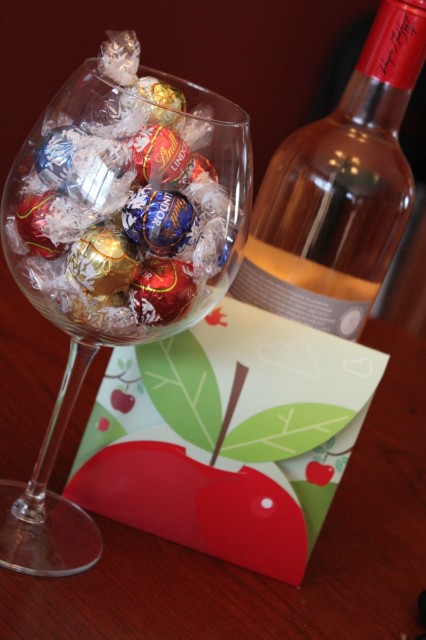 It's something I know they will appreciate. I know it's something they will enjoy.
I was able to find out who likes red and who likes white. They all like chocolate (who doesn't?!?!)
I did get a little extra something for Cuyler's EA. To go along with her vino I got her a Chapters gift card and had a bookmark custom made for her, pictured above (the blue is her birthstone, which happens to be Cuy's fave colour and the colour that represents autism awareness).
We are very lucky to have such great people teaching our kids. I thank them everyday. I just like to add a little something extra as we close out the school year.
What about you? Do you buy end of year teacher gifts?