When all the tributes and celebrations are done, how will we continue to remember Nelson Mandela? We have heard and watched the impact of his life through television, magazines, newspapers and social media.  He was a teacher, politician, activist, and father. Mandela has proven the power of one and the compassion of many.
Recently, Free the Children celebrated Nelson Mandela's life with high school students, dignitaries, celebrities and media in attendance.  Co-founder, Marc Kielburger hosted the event while his brother Craig Skyped in from South Africa surrounded by students of similar age. Singers like Shawn Desman, Kardinal Official were there and even Nelly Furtado made a surprise appearance at the Toronto Catholic high school where the event took place. The impact of this event was profound.
He often mentioned that he raised in a poor family of farmers and he was a young shepherd who "led the sheep from behind."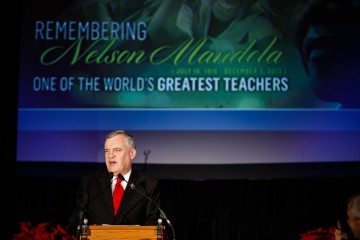 The Honourable David C. Onley spoke to the crowd of over 450 teens. By the time Mandela was released, Onley was already married with three children. "So much has changed in the world during the time he was in jail," said Onley. "I often wondered what went through his mind over the 27 years and all the suffering he had endured.
"All of us have experienced suffering and hurt," Onley continued. "But think about how he suffered yet he emerged believing, loving and forgiving."
Musician Kardinal Official recalled the time he had met Mandela when he was younger and how much he has impacted him personally. "If you ever have the opportunity to meet someone like Nelson Mandela you know how magical the experience is. He was an incredibly gentle man who taught me how to be humble and gracious," says Official. "Be the best person you can be. That's the best way to honour Mandela."
[youtube id="Y_OxTWyZjLk"]
It must have been amazing for Nelson Mandela to go into jail with hopes and dreams for his people when most people thought that war was the only option – then realizing that so much has changed when he was released. What an impact he has made for the people of South Africa and the world.
Mandela often spoke of his dream for the children of Africa – that they would be provided with the greatest education opportunities. During his time as South Africa's first black president, he opened doors for 1. 5 million marginalized children to attend school. After his retirement, he inspired new generations of global citizens in his home country, and across the globe.
"Education is the most powerful weapon which you can use to change the world." Nelson Mandela
With Mandela's commitment to education in mind, in September, Free the Children announced this would be the Year of Education—a year-long initiative with the goal of building 100 new schools in developing communities overseas. To honour Mandela's legacy, 100 of those schools will be built in Africa, specifically Kenya, Ghana and Sierra Leone – countries where Free The Children has over a decade of experience with education-focused development.
Canadians can help support Free The Children's Year of Education through the We Create Change campaign through RBC. Coins donated to the We Create Change campaign help provide bricks – the cornerstone of a new school that will open doors for hundreds of children. Every $20 provides one brick, 500 bricks builds a school. To learn more visit www.freethechildren.com/mandela
We can all do our part..it doesn't matter how big or small we think our efforts are. It all counts. One of my favourite Nelson Mandela quotes is this one…