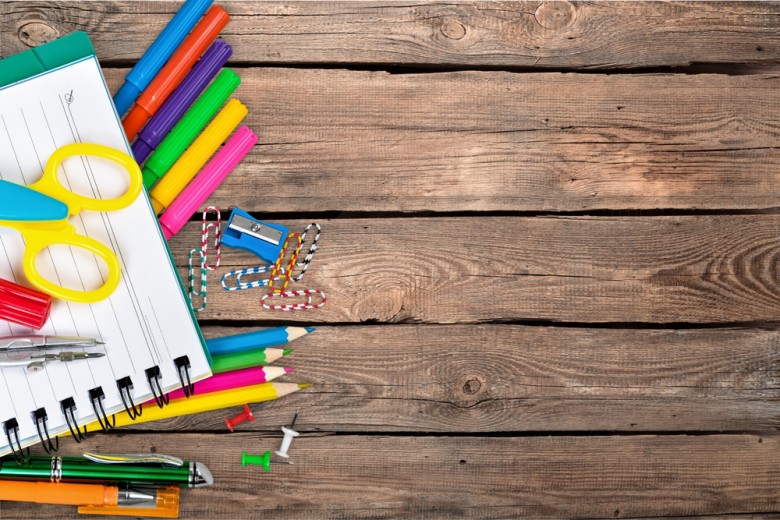 Hard to believe that in just a few days the kiddies will be back to school! I don't know about you, but I have been wiping the tears from my eyes – tears of joy that is!  Don't get me wrong, I love my children and really enjoy spending the summer months with them, however, it has presented some challenges and at times has been slightly overwhelming.
So as we all know, getting ready to ship the youngsters off isn't always easy on us or the wallet! Here are some tips that have helped me along the way!
· First of all give yourself a big round of applause and congratulate yourself for surviving the summer with all the kiddies at home!
· Do not pay full price for back to school supplies! Many stores have school supplies on sale during the early months of summer (end of June / beginning of July) and then during the last week of summer.  Check your flyers online and off.  Also keep your receipts –  if you did pay full price for something and then it goes on sale, take it back to the store and get a price match.
· When items are on sale, buy them in bulk so you have enough for when they run low and need to be replenished, also save some for home – we all have a child or two who is a budding artist!
· Once you do buy those supplies – HIDE THEM! Don't let your children take them out until the very last minute if you can.  I like to to do it the night before school starts.  The kiddies like to have a little gathering where they organize all their supplies.  It seems to get them excited and motivated to start school! Doing it later also helps to avoid any supplies from getting used or lost before school even starts!
· If your children eat lunch at school then be sure to buy lunch time essentials during the summer and hide them in a cupboard somewhere out of the children's sight (trust me I know this is difficult but think really hard of a good hiding place).  Often Kool-Aid, Juice boxes, Fruit snacks etc… go on sale during the summer so take advantage of the lower prices and stock up!
· Sit down and figure out how much money you will need to spend once school starts – account for pizza lunches, hot lunches, agenda's etc…. Put that money aside so it's not an issue when the dreaded note comes home from school on the first day and you have no cash flow! THINK AHEAD!
· Speaking of thinking ahead, as soon as the Parks n' Recreation and other facilities allow, I start registering for my children's activities.  This is usually a few weeks into August.  This assures that I get them into the programs I want before the waitlist starts! Register early to avoid disappointment!
· Create a homework schedule around the children's activities.  If you have children who are too young for homework, still set aside a special time for reading, colouring, or tracing letters.  This way they know what to expect each evening, and there will be no running around trying to cram everything in.  As well, this creates some wonderful study habits and organizational skills.  Don't forget to assign a special date night for you and the man, or just a time out for yourself!
· About two weeks before school starts I begin setting earlier bedtimes and wake up times.  Each night they go to bed ten to fifteen minutes earlier and I wake them up about ten to fifteen minutes earlier.  As much as some of my children resent this it does allow their bodies to adjust.
A special note for those who have children with an IEP.  Before school starts read over your child's IEP from last year.  Take note of any changes that you may want to make so you can inform the school during the first week.
Finally be sure to stock up on wine, willdberry, beer or whatever your drink preference is.  Trust me you will be happy you did once the first week of school is over!
 What back to school tips do you have?
Until next time,
Chantel, momof8crazymonkeys