All around Wonder Woman Jessica Mulroney (she works for Kleinfeld at Hudson's Bay  is the co-founder of the not-for-profit Shoebox Project) and her husband (and E-Talk host) Ben, have their hands full with their three adorable kids: fraternal twins Brian and John (4) and Ivy (22 months).
With busy schedules full of work, school, events and after-school activities, it can be hard to carve time out to just be a family. But that's why spending dinner as a family is so important to the Mulroneys. "As much as we can, [dinner] is a family affair," Jessica says over, you guessed it, family dinner. "Ever since I started working, dinner is an important time to connect with our children and, hopefully, teach them healthy eating habits."
The Mulroneys make a point of getting the kids involved in the actually planning of meals and they try to get the kids talking by asking them questions about their day. "And of course iPads, cell phones and television are not invited," jokes Ben.
As hard as it can be to get kids to open up about their day at school, it can be even harder to get kids to eat balanced, healthy meals. "[The boys dislike] vegetables or anything healthy for that matter! We struggle with very picky eater so we try to be as inventive as possible."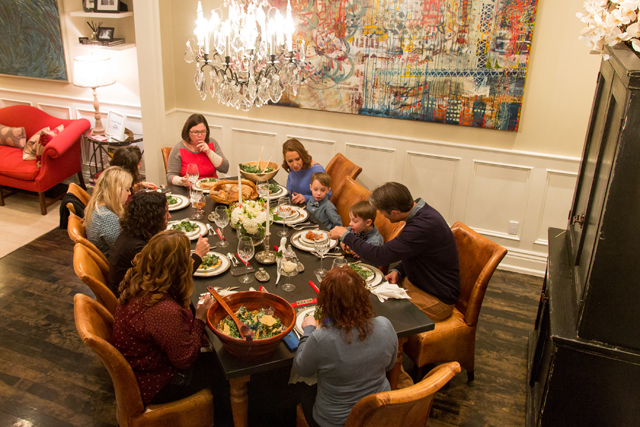 A perfect example of this? "Special chicken." I asked the boys what foods they didn't like eating and they both told me fish was high on that list. But "special chicken", boy oh boy, did they like special chicken.
Once the boys were out of ear shot, Ben explained that "special chicken" is really just fish… see? Inventive! They also hide nutritious foods in meals that the boys love like mac and cheese and spaghetti with meatballs.
Their number one piece of advice for parents of picky eater? Patience and persistence. "We continue to struggle as our boys taste buds are quite stubborn, but through it all were able to find healthy recipes that the boys enjoy," says Jessica. "We also find that eating as family helps them try new things that they otherwise wouldn't if they ate alone."
The Mulroneys try to make nutritious foods a part of every meal, including any after-dinner treats they give to the boys (and themselves). "We don't believe in depriving our children of dessert, as it could lead to an unhealthy attitude towards sweets," explains Jessica.
But instead of reaching for a cookie or a bowl of ice cream, the Mulroneys choose Danette, a new fresh dessert chockfull of diary. "It is made with 75% Canadian dairy and it taste like dessert! It is a simple choice for little picky eaters."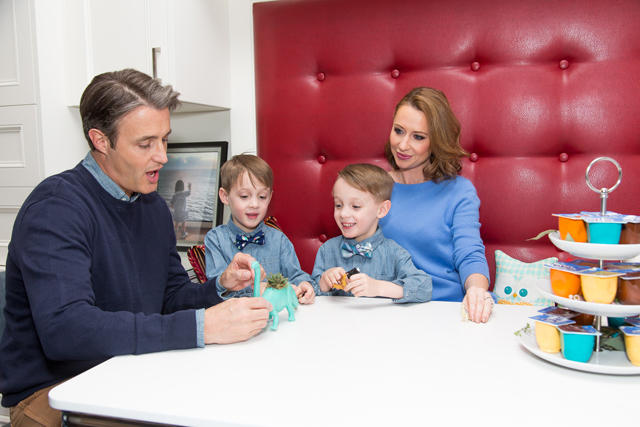 "It is a healthier indulgence and we know exactly what is in it," says Ben. "Danette allows [the kids] to get a significant amount of dairy all while enjoying a tasty treat."
With two-thirds of Canadians missing out on their 2-4 servings of dairy per day, Danette is a great way to indulge while keeping your health in mind.
And with six different flavours—chocolate, coffee, dark chocolate, choco-coconut, vanilla and caramel—there's a flavour for everyone!
So which flavours are on the top of the Mulroney's list?
"I love Choco-coconut," says Jessica. "Ben likes Caramel and the boys prefer milk chocolate!"