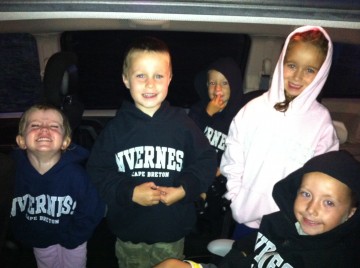 This past Saturday my bro-in-law James and I were put to the test. My wife (his sister) went away for the whole day, and his wife (my sis-in-law) was at work all day. That left the two of us and our combined 6 kids to fend for ourselves. Our precious cargo consisted of a one year old, 2 three year olds, 2 five year olds, a 6 year old, and a partridge in a pear tree. We figured there was safety in numbers and our best bet was to get through it together and have a game plan.
I learned a valuable lesson when it comes to children; you should have a schedule of some sort. I learned that the hard way coaching under-5 soccer. It's my first year coaching and on the first day, I thought I'd go in and wing it. I gotta tell you, half an hour is a lot longer than it seems when 8 kids in matching blue uniforms look at you and say in unison, "What now coach?"
So with that being said, this is how it all went down.
9am-10am: bike ride
10am-11am: park
11am-12pm: my house for lunch
James went home after lunch and left one of his kids with me; he had three kids and I had three kids, classic divide and conquer.
2pm-4pm: went to his house and the kids played while we enjoyed an adult beverage
4pm-5pm: we each go to our respective homes and got ready to go to my cousin-in-laws bday party
5pm-5:30pm: got the kids dressed (put the boys in matching camo shorts, classic)
5:30pm-5:38pm: my little guy Rory tried to buckle himself into his car seat (that was probably the hardest part of the day)
6pm-8pm: go to the party; kids eat and play
8pm-9pm: drive home, get the kids in the bath, brush their teeth, read them a story, and get them to sleep.
9pm-11pm: drank a few more adult beverages, enjoyed a pepperoni stick, and watched as many of 'my' TV shows as possible. I very rarely get to watch what I like, you know, like sports.
All in all, it was an amazing day. I think we can safely say that Daddy Day Care was a success. Now the question is, are they going to look after us with the same love, energy, and detail when we're too old to look after ourselves? Or am I going to find myself sitting in a corner in front of a TV watching 8 hours of sports with nothing but a dry, salty, slightly spicy, beef flavoured snack to gnaw on? Nah! I think they'll take care of their dear old dad.