All parents know that even the most well planned events can very quickly change to a big ball of poo due to life's cruel jokes. Take this past Thanksgiving for instance. Here it was a beautiful weekend planned in Hudson, the quaint town where my wife grew up just outside Montreal. Her mom's place is right on the water with a huge splay of land outside her side door. Tennis and basketball courts are just steps away, waiting for two active boys to burn tons of energy before digging into many scheduled meals, including the big bad bird on Sunday.
Steph and I also had a night out planned with her old old friends, a saved table at local pub where a friend's brother was playing some tasty folk rock. Cold microbrews with fun friends, listening to live music was going to be a perfect start to an extra long weekend away from home. The rest of the time was going to be attending the last local flea market date, a lunch of steamies and poutine and just relaxing, drinking big nasty red wines, sitting on cushy chairs brought into the middle of beautiful flecked autumnal fields or down by the quiet lake.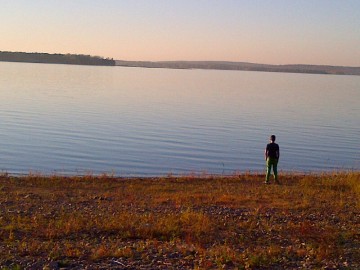 And then this happened.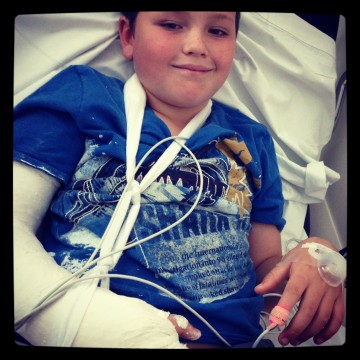 On Friday afternoon, a mere 14 hours after we arrived, Tasman scurried up a basketball net to hang off the rim. Which he did – for two seconds – before falling and trying to protect his ass with his hand and wrist.
Snap. Crackle. Pop. He fractured the two bones leading into his wrist, causing them to shift a bit out of place
What this meant was a Friday afternoon/evening/night spent at the local hospital for a six hour wait, eventually for them to tell us we had to spend  Saturday 140kms away in Ottawa to see an orthopedic surgeon. With the pub night killed, the next day was spent finding out that poor Tasman needed to be sedated so they could shift the bones back in place and encase his entire arm in big 1974 plaster cast. I kept on waiting for Wes Anderson's signature to automatically appear on his elbow. Nine to five in a waiting room. We ate cardboard pizza and played Candy Crush. Tasman was stoic and a funny throughout, especially flying high on Ketamine.
He didn't hit his head. So thankful for that. Kids break bones and shit happens. We are also grateful for the normalcy of this pretty much everyday occurrence, there were three other kids with sprained or broken bones in the small local emergency ward, but man did it take a weekend we all were looking forward to and derail it by one normal seven year old trying to pretend he just dunked a ball and hang off a rim.
And now I have to wipe his ass again.