Big news coming out of Mattel: Barbie's latest career is going to be…. a Super Hero!
For the first time in Barbie's 56-years, the iconic doll is declaring the year to "Be Super" and inviting kids to celebrate their own super acts on an everyday level.
To celebrate, fans are invited to visit the new BeSuper.com site where kids can join the Barbie Super Squad to share their own "super" stories. Kids can download their official Member Certificate and handbook that is filled with activities and participate in monthly missions. The Barbie Canada Facebook page is featuring profiles of women who have made an impact in the world – included on the roster are Marie Curie, Amelia Earhart, Bessie Smith among others. Launching this spring will be superhero-themed toys, a new show 'Barbie in Princess Power' on DVD, books and more.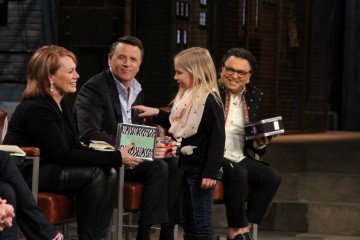 Also on the site are inspiring profiles of four Canadian girls who are proving that anyone—boy or girl, young or old—can do great things in their community. Ottawa's 8-year-old Noemie Pound organized her own charity fashion show called "Happy Hearts" and raised almost $15,000 for the Children's Hospital of Eastern Ontario. Mya Prehn—a 7 year old from Stettler, Alberta—is inspiring kids to eat better and started Lunch Apeel, a program that rewards healthy eating. She actually pitched her idea on CBC's Dragon Den and received support from all five Dragons!
Let's face it girls, and some boys we know, love Barbie so a superhero figure to inspire good deeds is great. We're looking forward to seeing what she's going to do.
And hey … who says girls can't be superheroes too?