Any parent of a daughter (and let's face it: parents of sons, too) should be justifiably frightened by the emerging details of the Rehtaeh Parsons case. Pretty much any of us can imagine it: a fifteen year-old girl goes to a high school party, maybe even her first big party. Some booze is passed around, she drinks too much. Way too much. She passes out. (Raise your hand if you've never been there before yourself. I thought not.) But instead of being lucky enough to have friends or acquaintances decent enough to take care of her with respect and dignity, Rehtaeh was allegedly raped after she passed out. More than once, and by more than one boy. And they took pictures. Which were then shared online and made the rounds via social media for a good long time afterwards. Eventually, when she couldn't handle the shame and harassment anymore, Rehtaeh Parsons took the only way out she could think of, and hanged herself.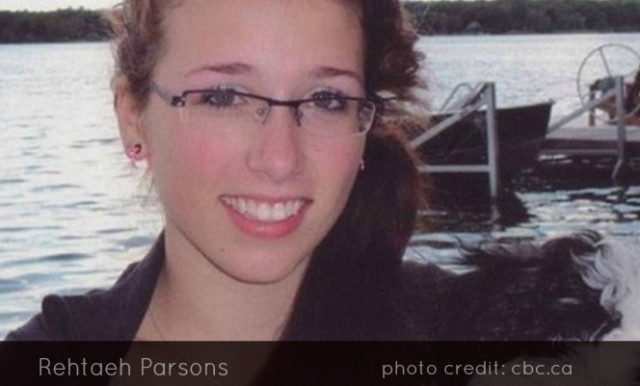 It was a terrible, unnecessary tragedy. One that any parent would justifiably fear.
But when the report of the External Review of the Halifax Regional School Board's Support of Rehtaeh Parsons was released this week, and I heard the first sound bytes on my drive into work, my blood turned to ice in my veins. Suddenly, Rehtaeh Parsons stopped being just some girl 5 years older than my own, all the way across the country. Suddenly I saw that Rehtaeh shared a lot more with my oldest daughter than just gender and nationality. Because it would seem that Rehtaeh was walking a similar path to my own child.
Rehtaeh's constant truancy made it difficult for school and mental-health officials to keep an eye on her. — CTV news
You see Rehtaeh, it seems, also suffered from school refusal, a serious emotional problem that is different from truancy. Here's the difference: a child with school refusal is actually unable to attend school (without extensive treatment and support), whereas a truant child doesn't want to go to school. A child with school refusal usually stays home when not at school, her parents will know she isn't attending, and she is almost always willing to do her schoolwork and try to keep up. A truant child avoids home when not at school, hides her truancy from her parents and avoids the schoolwork as well as the school.
"…attendance is critical and absences may be a first indicator of the need for interventions".
But I digress. After hearing those chilling words on the news, I decided to read the full report. And the more I read, the more afraid I became. Rehtaeh, it seems, transferred schools four times in the span between the traumatic events of November 2011 and her death in April 2013. My own daughter transferred schools four times between September 2012 and June 2013. Rehtaeh's parents desperately tried to find appropriate mental health treatment for her within their provincial health care system. According to the report, "her parents told us that they had begged IWK [the Halifax hospital where she was treated] to put Rehtaeh in a day treatment program because they were very concerned about the possibility of suicide." I have been fighting (and failing) to find ongoing and effective mental health treatment for my daughter within the labyrinth that is my own provincial health care system – Alberta Health Services. (You can read about my own struggles to advocate for my mentally ill child here.)
"…the available programs could not meet Rehtaeh's needs at a critical time."
Now granted, I don't know Rehtaeh's history prior to her trauma. Maybe she was a perfectly well-adjusted child who regularly attended school and didn't have any underlying psychiatric conditions. Certainly, indications were that she already had exhibited some signs of school refusal, or at least truancy. The report describes her as, "a typical Grade 10 student…although she sometimes skipped classes or was too often absent from school."
But whatever her history, one fact remains. Rehtaeh Parsons wasn't able to find the support she needed – either at school or in the provincial health system. In the words of the report, "Rehtaeh was a young woman of great promise whose needs were not met."
Which just happens to perfectly describe my own child. And that's what truly terrifies me about this story.